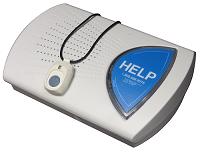 Rancho Santa Margarita, CA (PRWEB) May 29, 2012
Rescue Alert of California, a leading provider of advanced yet affordable medical alerts or personal emergency response systems (PERSs) and similar devices, has recently launched the MXD—the first ever PERS base unit that incorporates state-of-the-art features designed to ensure a more reliable and comprehensive medical assistance in the event of an emergency.
The MXD: New "Under the Hood" Innovations for Better Reliability and Compatibility
The MXD is already unparalleled in the industry, as each of its features is proven better than those of its rivals, such as clear voice prompts, exceptional quality water-proof pendants, and a wireless transmitter range that is longer than that of the average PERS device.
Aside from the usual features, however, the MXD represents a major solution to a growing concern with current medical alert devices. Anyone who has used a PERS device or a medical alert system knows that the average device is designed to work well only with traditional analog phone lines. This, however, becomes a problem as more and more people are switching over to the cheaper and better digital means of communication (such as VoIP or digital cable).
The result: as most current PERS devices are more compatible with analog phone lines, such devices suffer from a reduced reliability when installed on digital phone lines. Other PERS providers attempt to circumvent this by using a splitter or an intervening device, but such solutions are more like "patch work" and does not guarantee optimum reliability, especially for those crucial moments when an emergency occurs.
Rescue Alert of California's MXD overcomes this major problem by using a proprietary data transfer method that is designed to work well with either analog or digital phone lines as well as cellular home services. The MXD may look similar to the common medical alert device, but its vital innovations are all under the hood: a proprietary digital data transfer format that allows the PERS device to send data through any of the more than five methods (some of which are also proprietary) it uses. To put it simply, the MXD accurately detects whatever phone line the subscriber uses (whether it is analog or any of the current flavors of digital), and adjusts its method of data transmission automatically for optimum transmission reliability.
Collaboration with Digital Telecommunication Leaders
The company spent years in extensive research and development in order to come up with a PERS base unit technology that can be seamlessly compatible with digital type phone lines and most recently with home cellular connection. In fact, Rescue Alert has worked closely with digital telecommunications companies, such as Verizon, AT&T, Sprint and T-Mobile in developing the new technology and ensuring its efficiency.
No Additional Cost
Despite the advanced innovations with Rescue Alert of California's new MXD base unit system, it does not entail any additional cost or require any other equipment. This means existing users of medical alert systems do not have to worry about any drastic changes in their lifestyle or any further financial burden.
Moreover, the device is meant to make the coordination between the customer, the customer service representative, and the dispatchers in the response center much more integrated than ever. This on top of Rescue Alert of California's other service features—such as operating its own monitoring center instead of outsourcing it—further makes the MXD a must-have for both current and would-be PERS customers.
For further details and information regarding the MXD, please contact a Rescue Alert of California representative through the company's website at http://rescuealertofca.com or by phone at 888-222-2304.
Rescue Alert of California is the premiere medical alert system provider and has designed its products and services to respond with speed, accuracy, and dependability. They have specialized in elderly emergency medical alarm services for over 20 years. These extensive years of experience, engineering, and research have brought about the highest level of senior medical care.