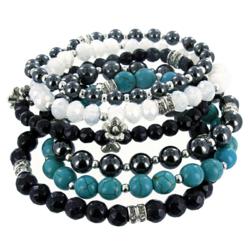 Working with Joanna to produce real gemstone bracelets with an elegant heritage, natural beauty and symbolic meaning is a distinct way for us to offer on trend designs that will last beyond the current fashion season
UK (PRWEB UK) 31 May 2012
UK e-boutique Disgraceful Grace (DG) have teamed up with graduate Geologist Joanna Taylor, to offer a unique perspective on the contemporary friendship bracelet. A stone with a vintage heritage and a fashionable future, the Turquoise gemstone is also the symbol of friendship and joie de vivre, and is the key ingredient to the focal design in their new Lustre bracelet collection.
"Turquoise was popular in jewellery of the elegant Victorian era and it's vibrant colour is one of the most popular contemporary trend colours right now." Says Julia O'Hara, founder of Disgraceful Grace. "Our intention is to offer enduring jewellery and accessory designs that keep an eye on current trends. Working with Joanna to produce real gemstone bracelets with an elegant heritage, natural beauty and symbolic meaning is a distinct way for us to offer on trend designs that will last beyond the current fashion season" adds Julia.
Disgraceful Grace and Joanna launch their first collection of stacking bracelets in genuine, unusual gemstones in time for the summer season.
"As a geology graduate, I let the natural beauty speak for itself" says Joanna Taylor, "I am really excited to be showcasing my designs through Disgraceful Grace with this Lustre bracelet collection."
Disgraceful Grace focus on honest and reliable customer service and first class quality jewellery produced by British artisans alongside top International designers such as Antonio Ben Chimol, Bulatti and Justine M Couture. At a time when the great British public are increasingly turning to the internet to meet the demands of modern life and to find things distinct from the high street, they know that the devil is in the detail. The jewel in the crown of this everyday collection is the turquoise friendship bracelet hand made in Wales by Joanna and her sister. Other designs feature gems such as blue goldstone (for composure), moonstone (the lovers stone) and hematite (for healing and calming).
The Lustre Bracelet collection is available online now with prices starting at only £12.75.