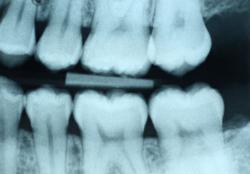 We've attached the rectangular cones to our units to reduce the scatter of radiation, allowing a better patient experience
Marietta, GA (PRWEB) May 31, 2012
The Marietta dentists offer Rectangular Collimation to restrict the size of an x-ray beam when dental x-rays are necessary. Restricting the beam allows a smaller area of the jaws and surrounding tissue to receive radiation exposure. "It is the goal of our dental office to strive for the best possible care for our patients," says Dr Kimmerling. "We've attached the rectangular cones to our units to reduce the scatter of radiation, allowing a better patient experience."
The rectangular collimation has given the office the added bonus of increased contrast and clarity of x-ray viewing by reducing the scattered radiation. The better image quality is a direct result of use. Although x-ray manufacturers are currently required to install filters in the units, the technology only improves the outcome. There are currently no significant reasons known for not installing the technology, although positive accurate alignment of the beam is necessary to avoid "cone cuts", or poor pictures. Exposure times for film or sensors are not affected.
The Marietta dental practice can use the technology in every operatory, allowing every patient to benefit.
Kirk Kimmerling, DDS, Alex Krempa, DMD and Suzanna Aguilera, DMD are cosmetic dentists in Marietta, GA and emergency dentist Marietta GA that are literally paving the way for the future of dentistry. The office is technologically sophisticated in not only equipment and procedures, but also developing dental materials via Kimmerling Holdings Group, LLC and fiteBac SkinCare, LLC, Dr. Kimmerling's biotechnology firms. The office maintains 13 operatories, each of which is equipped with a display monitor on which digital x-rays and intra-oral pictures can be examined, and patient education videos can be viewed. The office also employs highly advanced technologies, including: (1) Logicon, a program that can digitally measure the extent of tooth decay, which allows detection of 20% more cavities and helps prevent misdiagnosis; (2) "Collimators," a conduction of x-ray tube heads that decrease radiation exposure to the patients and staff by 5-fold; and (3) iTero, an advanced restoration impression system and digital scanner that produces more accurate restorations than traditional methods. The overall well-being of each patient can also be improved by adding a DNA salivary test, which allows the office professionals to better determine a patient's specific risk of periodontal disease as well as certain types of oral cancer. The office is the first to use fiteBac SkinCare Germicidal Hand Softening Gel, an advanced hand sanitizer without the harshness to skin from traditional alcohol-based hand sanitizers. Drs. Kimmerling, Krempa and Aguilera invite new patients to meet their exceptional staff and experience and benefit from state of the art dental care.