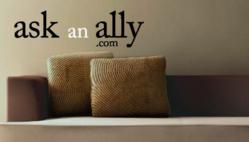 There is a need for access to professionals in all realms of society.
Denver, CO (PRWEB) May 29, 2012
AskAnAlly.com, the provider of free online advice from a psychologist, will sell virtual offices to experts in a variety of fields. In these offices, they will be able to answer questions regarding their specialty, as well as advertise their services, sell products and maintain a blog.
With a structure already in place, professionals will work with a talented team of designers to customize their online space for a fraction of what it would cost to create their own. Whether they already have a website or are looking to create something new, this will allow them to reach out to a new customer base and share their knowledge and expertise in a unique online environment.
"When I began Ask An Ally, my intention was to make therapy accessible to everyone," said founder and president Dr. Jane Ginsberg. "As we move forward, I realize that there is a need for this same kind of access to professionals in all realms of society. My vision expanded and we have now created the infrastructure for a virtual office building."
When visitors 'arrive' at the building, they will be able to enter the offices of experts in a variety of fields. Ask An Ally hopes to attract authorities from a wide range of industries. From plumbers to pediatricians, firemen to financiers, customers will be able to seek advice, ask questions, and participate in other activities that are provided by each individual office."
In an age where consumers are constantly looking for convenience, the ability to get as much information as possible in one place is very appealing. With an extremely user-friendly site, Ask An Ally hopes to become a one-stop-shop where customers can get reliable answers quickly, easily and securely.
"This is a unique chance for someone to grow their business for relatively little work and cost. They will be able to reach new customers and become a go-to expert in their field," said Cori Knol, Ask An Ally's marketing director. "Whether they already have an established business or are just starting up, this is a fantastic opportunity to become a part of a growing community."
To learn more, contact Dr. Jane Ginsberg at drjane(at)askanally(dot)com.
Jane Ginsberg is a psychologist and the founder and creator of AskAnAlly.com. She has been helping people reach their full potential for over 28 years. She currently divides her time between Denver, Colorado, and Cape Cod, Massachusetts, with her daughter, Hannah and their dog, Chester.