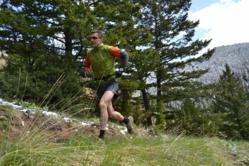 John felt the Polar RCX5 was an excellent running watch for the pavement and flatter courses and gave it to big thumbs up for those activities
Bozeman, MT (PRWEB) May 31, 2012
We recently tested the Timex Run Trainer versus the Polar RCX5 at the Heart Rate Watch Company. It was a test conducted by 50k ultra runner John Yarrington who is currently getting some warm weather training in down in South America with his Suunto Ambit.
"One of the discoveries about the Timex Run Trainer was that when you use a foot pod it overrides the GPS for speed and distance," says Rusty Squire, President of the Heart Rate Watch Company. He adds, "With Garmin and Polar products that is not the case because you can use GPS for speed and distance and just get your cadence from a foot pod, hopefully Timex will address this with some future firmware updates".
John calibrated the Polar RCX5 S3-plus foot pod at the Montana Sate University track doing 8 minute miles to establish his average stride length. John said that the Polar RCX5 Run version was very accurate on level and rolling terrain on a wide variety of courses that he has run before, especially on the pavement or on the track for intervals. The place he had issue with the accuracy was on really hilly or mountainous runs or trails where average stride length can vary a lot. He also noted that triathletes in long course events that alternate running with walking would also find their distance off when compared to GPS.
"John felt the Polar RCX5 was an excellent running watch for the pavement and flatter courses and gave it two big thumbs up for those activities. In fact, he said he liked the watch very much for these types of runs," says Squire. He adds, "With the Timex Run Trainer he liked it for his mountain and trail runs and even road runs but he was concerned that the foot pod overrode the GPS for speed and distance, which meant he could not get just cadence for his mountain runs".
Yarrington felt that given the correct application that both watches were excellent training tools, but he preferred GPS in the mountains and on hilly trails whereas the Polar RCX5 was better for road training and flatter to slightly hilly courses where stride length variation is not an issue.
John really liked the Polar personal trainer software for analysis and gave Polar the edge on heart rate based training data over the Timex Run Trainer. He plans to continue his testing further when he returns from South America.
"We are very excited to have a runner of John's caliber testing all our running products for us," says Squire. He adds, "He is a great asset and since he trains a lot in preparation for his 50k ultra events he has lots of miles to gather data with and he enjoys it."
CONCLUSIONS
If you like to road run, road race and train most on flat to moderately hilly courses then the Polar RCX5 is by far the best bet according to John. If you like to run hilly trails, mountains or do a lot of walk/run variations then he felt the Timex Run Trainer was the better tool.