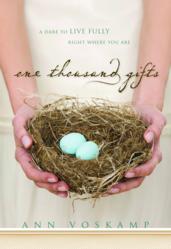 Grand Rapids, MI (PRWEB) May 30, 2012
New York Times bestseller "One Thousand Gifts: A Dare to Live Fully Right Where You Are" (February 2011, 9780310321910), by debut author Ann Voskamp, continues to turn heads as the book hits 500,000 books sold in 18 months.
"One Thousand Gifts" has spent 40 weeks on the New York Times bestseller list, is a recipient of an award of merit in Christianity Today's Books of the Year, and has received 400 five-star reviews on Amazon.
"Great message and poignant writing," says Max Lucado of One Thousand Gifts. "Biblical thanksgiving," writes Marvin Olasky, editor in chief of WORLD Magazine agrees, from, "a remarkably gifted writer."
"Ann's life-changing message of gratitude and grace has created a worldwide movement of individuals slowing down and giving thanks for the simple blessings of life," says Tracy Danz, vice president and publisher of Trade books. "Zondervan is so thankful to be a part of this, and we're excited for many more people to take the dare of counting one thousand gifts."
"From a voice that is a fresh wind," says Patsy Clairmont, "this beautifully heart-wrenching book unveils the long forgotten wonder that through the imitation of Christ's thankfulness, we too can experience a life of radical, reviving joy."
While the story chronicles the far-reaching life transformation of simply counting 1000 gifts, the book has in and of itself become a gift. Royalties from "One Thousand Gifts" is building an educational center in the Guatemala City dump in partnership with Compassion International to serve hundreds of children living in dire need. The book about counting His blessings becomes a blessing, and being a gift, the bread broken and given, is the way to unwrap multiplied joy!
In "One Thousand Gifts," Ann Voskamp, mother of six and wife of a full time farmer, wrestles with that universal question: how in the world do we really live joy? A dare from a friend, Voskamp begins writing a list of one thousand gifts found in her average, messy, struggling, life. Not only is this a remarkable story of waking up to amazing grace, to the glory of God in the moments — it's a story that startlingly unlocks the riddle at the crux of it all.
To further the discussion, a smart phone app is available to allow users to count their way up to 1,000 gifts through capturing images and text notes. The free app gives users the capability of instantly sharing their gifts to Facebook, Flickr and Twitter (#1000gifts), and is available for iPhone, iPad, available here, and Android users, available [here. One needs to simply search the hashtag #1000gifts on Twitter or visit Voskamp's page on Facebook to see the vast number of people accepting her dare to make their own list of blessings – and sharing their own stories of deep life transformation.
Featured on the "TODAY" show, Voskamp is a columnist with DaySpring and a contributing editor to Laity Lodge's, The High Calling with a background in education from York University and the University of Waterloo. A global community gathers everyday at her blog, http://www.AHolyExperience.com.
Visit http://www.OneThousandGifts.com.
Zondervan, a HarperCollins company, is a world leader in Christian communications and the leading Christian publishing brand. For more than 75 years, Zondervan has delivered transformational Christian experiences through general and academic resources by influential leaders and emerging voices, and been honored with more Christian Book Awards than any other publisher. Headquartered in Grand Rapids, Mich., with offices in San Diego and Miami, Zondervan conducts events and publishes its bestselling Bibles, books, audio, video, curriculum, software, and digital products through its Zondervan, eZondervan,
Zonderkidz, Youth Specialties, Editorial Vida, and National Pastors Convention brands. Zondervan resources are sold worldwide through retail stores, online, and by Zondervan ChurchSource, and are translated into nearly 200 languages in more than 60 countries. Visit Zondervan on the Internet at http://www.zondervan.com (mobile site: zvan.mobi).