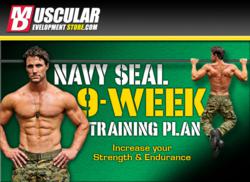 These Special Ops training programs will push you to your physical limit
East Setauket, NY (PRWEB) May 30, 2012
In time for swimsuit season, MuscularDevelopmentStore.com has released an intensive new workout plan modeled closely on Navy SEAL Special Ops training.
According to Brian Turner, President of MuscularDevelopmentStore.com, "the plan represents a paradigm shift away from the same-old workout plans that get repeated over and over again in popular health and fitness magazines. This plan is well-researched, highly authentic, and designed for fitness enthusiasts looking to take their training to the next level."
The plan was authored by Daniel T. Johnston, MD, MPH, a physician in the US Army currently serving as Medical Director at US Army Comprehensive Soldier Fitness. It follows the philosophy that the the best preparation for SEAL training involves building to a high fitness level peak in order to perform at the optimum level without overuse injury. According to Doctor Johnston, this can be done in a relatively short period of time with proper training, but it requires a strict balance between weights, high repetition calisthenics, long-distance running, swimming, rucking, climbing and other high-intensity exercises. In addition, creating a high muscle endurance/strength to bodyweight ratio is vital for success.
"The plan," states Brian Turner "is designed for an audience hungry for innovative approaches to muscular development and it fits in with our philosophy of offering a wide range of quality content alongside top bodybuilding supplements.
In addition to running, swimming and other standards, the intensive training adds "thrusting", kettle bell swings, and the "farmer walk" to its eclectic mix of high intensity exercises, making it suitable not only to muscle development but also endurance training, fat loss, and better cardio.
Johnston matter-of-factly states that those interested in the training will need to focus on exercises that cause them the most difficulties, such as high repetition calisthenics. "These Special Ops training programs," he adds, "will push you to your physical limit." It is also highly recommended by the author that participants "get familiar with four-mile timed runs and two-mile ocean swims to get a solid foundation of the endurance required for BUD/S".
The plan is arranged to fit the personal schedule and fitness level of individual participants and provides instruction on how to gradually build towards optimum performance.
Johnson goes on to warn, "One thing is for sure— no 45-minute weight room workout alone will adequately prepare you for a day of SEAL training. You must work out for several hours a day to prepare yourself for the long days and nights at BUD/S."
It is obvious that the Navy SEAL 9-Week Special Ops-based training plan is designed for fitness enthusiasts who wish to take their training to new heights that require extremely high degrees of focus, determination, and willpower.
Those interested in learning more about Muscular Development Store can visit their website: http://www.musculardevelopmentstore.com, a resource for top protein supplements, workout enhancers, fitness articles and more.