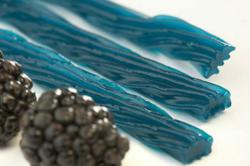 Elma, New York (PRWEB) May 31, 2012
The Made In America Store has partnered with I.M. Good Snacks to bring ten different flavors of licorice to their store. The all-American made store has surpassed 3,000 different items, I.M. Good Snacks has now expanded their grocery department.
I.M. Good Snacks introduces licorice in flavors of Root Beer, Blue Raspberry, Cherry, Cinnamon Twist, Grape, Green Apple, Red Raspberry, Root Beer, Strawberry, Watermelon and Classic Red Licorice.
Consumers looking for 100% US made licorice in a variety of flavors from I.M. Good Snacks can visit http://www.MadeInAmericaStore.com or call 716-652-4872 and talk to a Made In America Store representative.
I.M. Good Snacks started in 1990 by packaging salty snacks for local taverns throughout Northeast Ohio. I.M. Good Snacks was incorporated in 1992, while increasing packaging capabilities and finding distributions/wholesalers has been the goal ever since.
In 2005, I.M. Good Snacks was purchased by Hickory Harvest Foods from nearby Akron, Ohio. Hickory Harvest produces similar snacks sold through grocery stores, travel stores, and convenience stores in packages, bulk, and holiday items. This combination of industry forces allows our companies to produce licorice snacks for all types of retailers.
The Made In America Store stocks their shelves with a variety of candy, both local and national but all 100% American made. I.M. Good Snacks share shelf space with Claey's Fudge, Russell Stover, The Basket Co. and Jelly Belly.
The Made In America Store is located at 900 Maple Road in Elma, New York and is committed to selling 100% American manufactured products. You can visit http://www.MadeInAmericaStore.com for more information or shop our catalog of over 3,500 products from over 290 vendors that are devoted to producing USA made products. All US military personnel, both active duty and veterans, receive a discount every day. Consumers can also keep up to date news articles, events, photos and contests with Facebook, Twitter, Google+, Pinterest and Tumblr!