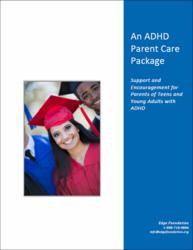 Parents of ADHD adolescents need all the support they can get!
(PRWEB) May 30, 2012
The Edge Foundation's new publication, An ADHD Parent Care Package, was written to help worried parents navigate the difficult teen years when their child has ADHD. The free publication is available at the Edge Foundation website and explores a wide array of information including:

Life saving tips to mitigate the risks of an ADHD teens – especially as they are learning to drive or keeping their medication secure on campus
Steps parents can take to help their child become a better advocate for himself

A explanation of executive functioning and it impacts a child's ability to learn
Scientifically-based facts about ADHD and how it impacts a child's brain and his ability to learn in school.
Legal protections in the academic setting and important changes in children's legal status when they turn age 18
"Adolescence is a critical time for parents of children with ADHD. Parents who have closely managed their children's ADHD need to step back and let their children take on increasing responsibility. Teens and young adults with ADHD are at much higher risk than 'average' teens for dropping out or making poor decisions that will impact them a lifetime. This care package is designed to give parents the support and guidance they need to help their children become successful, contributing adults," says Robert Tudisco, Executive Director of the Edge Foundation.
THE EDGE FOUNDATION is a Seattle-based nonprofit organization that offers supplemental treatment for students with ADHD. Founded by Neil Peterson in 2005, its mission is to help every child, adolescent and young adult with ADHD to fully realize their own potential, personal vision and passion through personal coaching. For more information contact info (at) edgefoundation (dot) org or call 1-888-718-8886.