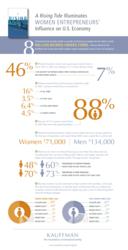 KANSAS CITY, MO (PRWEB) May 30, 2012
Financing often is the cornerstone for long-term business startup success. Yet, little research and insight on financing strategies have been available to the nearly 8 million women-owned firms in the United States.
A new Kauffman Foundation-funded book, A Rising Tide: Financial Strategies for Women-owned Firms (http://www.kauffman.org/risingtide), brings together current data and research from multiple resources and provides real-world case studies that offer practical lessons for any woman who runs a business or is thinking about starting one. Investigating women-owned companies at every stage from home-based to growth-oriented, authors Susan Coleman and Alicia Robb present financial strategies that have helped women entrepreneurs succeed.
The number of women-owned firms continues to grow at a rapid pace. Yet, the impact of women-owned businesses has been minimized historically because women-owned firms often have underperformed men-owned firms in the more traditional economic measures of size and growth. However, as Coleman and Robb point out in A Rising Tide, women entrepreneurs are, in fact, highly diverse in their motivations and measures of success. In light of this, it is timely to consider factors contributing to the launch, growth and success of women-owned firms.
"Women boldly take on new opportunities, but often these opportunities require additional financial resources and new financial strategies," said Robb, a senior fellow with the Kauffman Foundation. "We show that women entrepreneurs are securing those resources and are proving to be adept in overcoming existing obstacles. They are the pioneers and the role models for the generations of women entrepreneurs who come after them."
A Rising Tide also acknowledges that financing strategies for new firms may be very different from those of established firms or firms going through a period of rapid growth. Coleman notes that, "The entrepreneur faces different types of financial challenges as her firm moves through the various stages of its life cycle from initial idea to launch, growth and maturity. Thus, the successful entrepreneurs we interviewed for A Rising Tide were constantly refining and adapting their financial strategies."
At the end of each chapter, Coleman and Robb provide principles in action using real-world women entrepreneurs and situations. The book itself concludes with a summary of financial strategies supported by case histories that inform the authors' recommendations. As an added feature, A Rising Tide also assesses public policy priorities that could encourage and enable more women to pursue an entrepreneurial path.
About the Kauffman Foundation
The Ewing Marion Kauffman Foundation is a private nonpartisan foundation that works to harness the power of entrepreneurship and innovation to grow economies and improve human welfare. Through its research and other initiatives, the Kauffman Foundation aims to open young people's eyes to the possibility of entrepreneurship, promote entrepreneurship education, raise awareness of entrepreneurship-friendly policies, and find alternative pathways for the commercialization of new knowledge and technologies. In addition, the Foundation focuses on initiatives in the Kansas City region to advance students' math and science skills, and improve the educational achievement of urban students, including the Ewing Marion Kauffman School, a college preparatory charter school for middle and high school students. Founded by late entrepreneur and philanthropist Ewing Marion Kauffman, the Foundation is based in Kansas City, Mo. and has approximately $2 billion in assets. For more information, visit http://www.kauffman.org, and follow the Foundation on http://www.twitter.com/kauffmanfdn and http://www.facebook.com/kauffmanfdn.