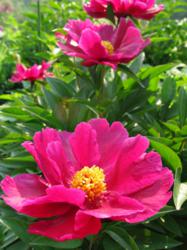 When vegetable sprouts reach 2 to 3 inches and show true leaves you can apply organic weed preventer.
Lebanon, PA (PRWEB) May 30, 2012
Nothing sets off a beautiful flower garden like an emerald green swath of grass. Now is the time to love-up your lawn so it stays green and healthy all summer long. Mow regularly, don't remove the clippings, and keep the height about ½ longer than usual to minimize heat stress. For practical seasonal notes, see the "Garden & Landscape Tips" section of http://www.preen.com.

Plant your Halloween pumpkin. The seed packet will tell you the number of days to harvest. Count backward to find the proper planting date.
To keep your perennial garden colorful throughout summer and into fall, plant a few blocks of annuals among early-summer bloomers such as peonies, irises and campanulas. Once they fade, the annuals will carry on adding color to otherwise past-prime beds. Good companions for perennials include zinnias, nicotianas, salvias, verbenas, heliotrope and impatiens.
Scout for pest problems and treat as needed. Among the trouble you might run into this time of year are bagworms on evergreens and shade trees, borers on birch and dogwood, woolly adelgids on hemlock, lacebugs on azalea and pieris, spider mites on spruce, hemlocks and juniper, and scale on euonymus. Avoid spraying when temperatures are more than 85 degrees.
Vegetables are now entering their most active growth stage. Make sure they have access to a consistent supply of moisture – about one inch of water per week. Thin any crowded plants and remove weeds that are competing for water and nutrients.
Harvest any early crops of spring-planted vegetables. Don't leave any space bare from pulled plants, though. Replant immediately with summer crops of beans, carrots, corn, peppers, beets, pumpkins, potatoes or cucumbers. Once sprouts reach 2 to 3 inches in height and show true leaves, apply organic Preen Vegetable Garden Weed Preventer to beds to keep new weeds from sprouting.
As the days grow warmer, spring-planted lettuce begins to develop a milky sap that gives the leaves a bitter taste. When this happens, pull them out and replant a second crop. Most romaine and loose-leaf varieties are relatively heat tolerant and make good choices for second plantings.
Strawberries, raspberries and blueberries are packed with antioxidants that help our bodies fight disease and environmental stress. Consider making room in your garden for one or more of these delicious and healthful fruits.
Newly planted shrubs and trees require a full growing season to establish a strong root system. Help these plants thrive by watering once each week right through the fall. Apply Preen Mulch Plus to help retain moisture and keep down weeds for up to six months. It comes in three non-fade colors: Russet Red, Midnight Black or Chestnut Brown.
Preen is the leading brand of garden weed preventers. Preen products don't kill weeds; they stop weed seeds from germinating.