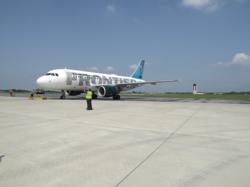 We look forward to building a long standing relationship with Frontier Airlines."
Charles R. Everett, Jr.
Executive Director
Lehigh-Northampton Airport Authority
Allentown, PA (PRWEB) May 31, 2012
Frontier Airlines' new year-round, nonstop service between Lehigh Valley International Airport (ABE) and Orlando International Airport (MC0) took off on May 26, connecting Allentown, Pennsylvania area travelers to one of America's most-visited destinations. The new service will operate on Tuesdays and Saturdays.
"We're already seeing a great response to our nonstop, low-fare flights between Allentown and Orlando," said Greg Aretakis, vice president of Network and Revenue for Frontier. "It's clear that local residents value being able to fly nonstop to the airport that's closest to Orlando's popular theme parks and other attractions." Frontier is the only airline that flies between Allentown and Orlando International Airport.
To celebrate the arrival of this "whole different animal" at Lehigh Valley International Airport, an inaugural celebration was held on Tuesday, May 29th. To entertain the passengers prior to their departure on Frontier to Orlando, festivities took place to keep in check with the airline's spokes animal theme. The Lehigh Valley Zoo brought with them a penguin, parrot and rabbit. A live remote from CAT Country 96.1 FM took place. AAA East Central also partnered in this event and gave away an AAA Travel Prize Pack which consisted of a hotel stay and travel items to complement the 4 round trip tickets that were given away on Frontier to Orlando courtesy of ABE. A performance by the Liberty High School Bagpipers and complementary refreshments for guests and passengers heading to Orlando on Frontier that morning rounded out the event.
When the inbound Frontier flight from Orlando landed at ABE, the Boeing A-319 aircraft was given a water cannon salute courtesy of the Lehigh-Northampton Airport Authority Fire Department. The celebration concluded with a ribbon-cutting ceremony at the gate prior to the flight's departure back to Orlando.
Charles R. Everett, Jr., Executive Director of Lehigh-Northampton Airport Authority, noted "We look forward to building a long standing relationship with Frontier Airlines. Orlando is our top destination with over 100,000 passengers annually and Frontier's service will enable us to offer another option for travelers for nonstop service and low fares."
Following is the schedule for the new route:
From MCO-ABE, departs at 8:31 a.m. and arrives at 10:58 a.m. on Tuesdays and Saturdays
From ABE-MCO, departs at 11:40 a.m.and arrives at 2:00 p.m. on Tuesdays and Saturdays
Flights will operate on 138-seat Airbus 319 aircraft, featuring 24 channels of DirecTV® and three channels of hit movies at every seat. STRETCH seating, with an additional 5 to 7 inches of legroom, and the airline's new SELECT seating product are available on every flight. FrontierAirlines.com, the airline's website, offers its guaranteed lowest fares and is the only place STRETCH seating and SELECT seating are available at the time of booking.
About Frontier Airlines:
Frontier Airlines is a wholly owned subsidiary of Republic Airways Holdings, Inc., an airline holding company that also owns Chautauqua Airlines, Republic Airlines and Shuttle America. Currently in its 18th year of operations, Frontier offers service to more than 70 destinations in the United States, Mexico, Costa Rica, Jamaica and the Dominican Republic. The airline employs 5,000 aviation professionals, operating from its hub at Denver International Airport. For in-depth information on Frontier Airlines and to book tickets, visit frontierairlines.com
About Lehigh Valley International Airport:
Lehigh Valley International Airport is conveniently located near Allentown, Bethlehem and Easton, Pennsylvania and is served by Air Canada, AirTran Airways*, Allegiant Air, Delta, Frontier, United, and US Airways with 11 nonstop destinations with connections to the world. LVIA serves a twelve county area with a population base of 3.6 million people. The Airport is easily accessible from communities in eastern Pennsylvania and northern New Jersey areas. For more information on LVIA, visit flylvia.com.