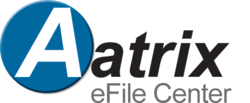 Aatrix has set a goal to add 100,000 new users by April 1, 2013
Grand Forks, ND (PRWEB) May 31, 2012
Aatrix Software Inc, the nation's leading Automated payroll reports, plain paper printing, and Single-Point payroll eFile processors, announced an aggressive sales effort to be launched July 1, 2012. Aatrix has set a goal to add 100,000 new users by April 1, 2013. The Aatrix solution provides plain paper printing and eFiling of over 260 automated payroll reports and payments to over 240,000 businesses in the US and Canada. Aatrix State & Fed Payroll Reports™ is a fully integrated OEM solution that has licensing agreements with over two dozen of the nation's most popular payroll solutions.
Appeal to software developers
Aatrix Payroll Reports cuts development costs and expand payroll reporting options. Most accounting developers would like to add eFile options to their payroll product but can't justify the development time and money necessary to complete the project. Aatrix offers a turn key solution that allows you to easily integrate a comprehensive payroll reporting solution.
The integration can typically be completed with less than 75 development hours and is an extremely well documented and proven process. The patented technology can be brought to market in a series of steps or all at once. The time-to-market is typically less than 120 days.
Improved functionality
State and federal agencies continually change filing dates, forms, calculations, rates, and compliance standards. The risk of costly fines and penalties for non-compliance is one of the greatest concerns of business owners and particularly payroll administrators.
Aatrix's Tax Compliance group maintains hundreds of State and Federal payroll forms, and the Aatrix eFile Center provides a guaranteed delivery method insuring 100% compliance.

Forms approved by over 170 agencies
Aatrix prepares payroll reports in one of the 100s of electronic
formats maintained and updated by Aatrix.
Aatrix Compliance Center provides support at no charge
Aatrix guarantees compliance for timely filings
Time date & stamped history files provide a flawless audit trail
Compliant services continue to expand each year. Aatrix's Compliance Center maintains over 600 separate form pages that are approved by state and federal agencies for filing.
Aatrix provides eFiling, and compliance services for State and Federal W-2s/1099s, Unemployment, New Hire, and Withholding Reports and payments.
Reports are automatically filled in with information taken directly from the customer' payroll data. This eliminates transcription errors, saves the payroll administrator hours of effort, and insures complete compliance by guaranteeing the correct form every time, as well as, meeting filing format requirements.
Complete W-2/1099 eFiling services can eliminate the pain associated with processing W-2s/1099s in-house. In the past these services were provided by payroll service providers and were often very expensive. The addition of complete W-2/1099 eFile services has made this option very affordable, and offers significant efficiencies to small businesses. With a single selection, the Aatrix eFile Center will Print & Mail Employee W2s/recipient 1099s, file Fed copies including W-3/1096 and State W2s, W3s and State Reconciliation forms and receive on-line W2s. With the W-2 complete service the employees copy will also be hosted to a secure website for instant access.
Aatrix supports all state and federal Payroll Reporting Forms including US territories. Aatrix provides plain paper printing, eFiling, and compliance services for State and Federal W-2s, 1099s, Unemployment, New Hire, and Withholding Reports currently available to more than 240,000 businesses as a fully integrated OEM product within their payroll software.
New revenue stream from existing customers
Aatrix delivers a new revenue stream from existing customers via the eFiling services available within the Aatrix solution. Revenue is obtained by selling annual subscriptions for unlimited eFiling of Unemployment, Wage Withholding, and New Hire reports and associated payments/deposits, as well as, separate W-2/1099 eFiling services.
Steve Lunseth (Aatrix CEO) commented that, "We are acutely aware that in the current economic environment, costly development efforts are almost impossible to push forward. This process makes adding this valuable feature and additional revenue stream fast and affordable."
Aatrix Software, Inc.
Aatrix was a company founded in payroll and finance software. Located in Grand Forks, ND, Aatrix Software has been developing innovative accounting software solutions since 1986. Originally founded to develop accounting and payroll applications Aatrix still provides payroll software to thousands of customers. Aatrix's finance software has received numerous awards, including Software Digests highest overall rating and Home Office Computing Editors Pick.
In 1991 Aatrix established a Windows® development group given a mission to create a comprehensive state and federal payroll reporting solution module that could be integrated with any accounting software. Today, after millions of dollars invested and armed with US Patent #7,171,165, the Aatrix Electronic Forms Division is now one of the nation's premier payroll reporting specialists. Aatrix has over 225,000 active customers and continues
to grow every quarter of every year. The Aatrix solution is now integrated into over 30 of the most popular payroll solutions in the US and Canada. The ability to have over 250 state and federal forms completed automatically with the payroll data in the customer's payroll software has proven to be a valuable business tool by eliminating errors and making the process simple saving payroll administers both time and money.
The addition of the Aatrix Single-Point eFile Center in 2001 delivers a comprehensive solution to the growing requirement of businesses to efile reports and make payments electronically. The customer has the ability to eFile any of these reports and payments. Aatrix formats these reports/payments and eFiles them to over 170 different state and federal agencies. Aatrix added the Complete W-2/1099 eFile Service that prints and mails employee copies and eFiles millions of W-2s/1099s to state and federal agencies every year.
© copyright 2012 Aatrix Software. All trademarks are the property of the respective companies.