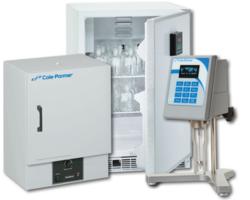 Vernon Hills, IL (PRWEB) May 29, 2012
Expanding its range of calibration services, InnoCal®, a division of Cole-Parmer, has added calibration services for key laboratory equipment. The metrology lab now calibrates mixers, stirrers, hot plates, incubators, ovens, refrigerators, freezers, pipettes, and viscometers. These enhanced capabilities offer added convenience to customers who wish to have their instrument calibrated before it is shipped to them.
"With calibration at purchase, customers receive their instrument ready to use," stated Brandon Wold, Services Manager. "There's no downtime and no time trying to get your new instrument running accurately."
As an A2LA-accredited laboratory, InnoCal has helped thousands of customers meet ISO, FDA, EPA, GLPs/cGMPs, and other quality standards for more than a decade. InnoCal continues to provide calibration services for a large range of thermometry, electrical, and process equipment. InnoCal customers receive some of the most comprehensive NIST-traceable calibration reports in the industry, designed to meet the most stringent quality requirements.
Cole-Parmer provides time-saving options for equipment calibration through InnoCal:
New Instrument Calibrations: When purchasing a new instrument from Cole-Parmer and ordering calibration, customers receive the calibrated instrument along with NIST-traceable documentation.
Recalibration Services: Ship an existing instrument of any brand to the InnoCal laboratory for regularly scheduled maintenance and recalibration. The instrument is cleaned, calibrated, and quickly returned—with long-form calibration reports—to keep business running smoothly.
For more information, call 800-323-4340 or visit ColeParmer.com/19213.
Cole-Parmer has been a leading global source of laboratory and industrial fluid handling products, instrumentation, equipment, and supplies since 1955. Our product lines, including popular brand names such as Masterflex®, Oakton®, and more, are sold through company-owned customer channel outlets and a strong network of international dealers. We also feature an ISO-17025-accredited metrology lab for instrument calibration and repair. Cole-Parmer responds with excellence to customer needs, and offers application expertise and technical support. For more information, contact Cole-Parmer, 625 East Bunker Court, Vernon Hills, IL 60061. In the US, call 800-323-4340. International customers, call 847-549-7600. Visit us at http://www.coleparmer.com.