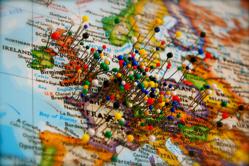 We simply tapped into human curiosity
Philadelphia, PA (PRWEB) May 30, 2012
The US based and recently launched virtual pin map at uencounter.me has announced a significant increase in International users. The company has disclosed that they are seeing users from around the globe utilize the pin map platform to create personal maps. "We feel this increase demonstrates that virtual pin maps are useful and interesting across a variety of cultures. We simply tapped into human curiosity" suggests Kantner, Co-Founder & CEO.
The uencounter.me team reports logins over the last several weeks from users in 76 different countries with the Brazil, the UK, Canada, Turkey, Australia, and Italy leading the pack of International locations. "Those users are creating pin maps and dropping pins all over the world" states Kantner, "many of them represent travels but we are seeing users track everything from customers, clients, extended family, and locations of special interest such as antique shows". The idea of tracking locations is not new and has been handled with paper maps and tacks for decades. Uencounter.me brings takes that idea and brings it to the web in a unique way.
When locals pin their favorite places on a public map such as uencounter.me, people who travel have the opportunity to find recommendations that may not be on main street or popular tours. The value of having so many International users is evident for US residents who are looking for local flavor when traveling abroad. Initially, CEO Leslyn Kantner wanted the ability to compare her lifetime of travels with that of a friend to identify common interests and travel but was unable to find a tool that allowed her to complete the task. Partnering with a web developer, they began to understand that a virtual pin map would have appeal for other travelers and potential for a number of different uses. "That's when we decided to create a full scale application and release it publically" states Kantner.
With a shoestring budget, the uencounter.me team has only begun to market its platform but has established a user base by utilizing social media tools such as Facebook and Twitter. Most recently, users from Brazil have been flocking to the site after a brief mention on a Brazilian travel blog. "We are depending on word-of-mouth advertising" says Kantner "and momentum is building".
About: Uencounter.me is a virtual pin map that is social! It was born from an innate curiosity of the interwoven universe in which we reside; the serendipitous nature of our lives, a life time of memories, and a desire to see it in a visual format. CEO Leslyn Kantner coupled a great idea with a lifetime of entrepreneurial spirit and developed a dynamic team to develop and build what is now the only geo-location web application that emphasizes 'people'.