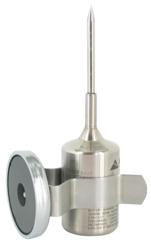 Warner, NH (PRWEB) May 31, 2012
MadgeTech, Inc is pleased to now offer the MagMount-1, a magnetic wall mount for data loggers. This durable accessory has a steel clip that locks the data logger into place, and a powerful magnet protected by a corrosion-resistant base.
The MagMount-1 is compatible with MadgeTech's PR140, HiTemp140 series, and 1000 series data loggers. The device provides a quick and efficient way to hold a data logger in place, without damaging walls and other surfaces. The MagMount-1 can be placed in environments from -80°C to + 80°C, and is ideal for use in refrigerators, freezers, and incubators.
The MagMount-1 is priced at $25.00. For more information on MadgeTech and its products, please visit http://www.madgetech.com or contact info(at)madgetech(dot)com. Phone: 603-456-2011.