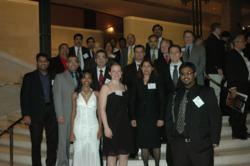 We anticipate that Newt Global will continue growing at a phenomenal rate.
Dallas, TX (PRWEB) May 31, 2012
Newt Global was recently named as one of the top entrepreneurial Dallas-based companies in 2011 by the SMU Cox Caruth Institute for Entrepreneurship. The award ceremony took place at the Morton Meyerson Symphony Center on November 16th and more than one thousand guests attended.
Established in 1990 by SMU, The Dallas 100TM award recognizes and rewards the companies that helped the economy by generating profits and jobs within the Dallas area. The Dallas 100TM celebrates the entrepreneurs and companies that helped bolster the economy. This is the second consecutive year in a row that Newt Global placed in the Dallas Top 100™ for the Fastest Growing Companies in Dallas.
Founded in 2004, Newt Global has achieved tremendous growth and it is working with many Fortune 500 clients in Telecom and Transportation. "We have been lucky and we are honored to be a part of this esteemed group of companies. 2011 has been an exciting year for Newt Global," said Neeta Goel, President and CEO of Newt Global.
Over the last two years, Newt Global Consulting has expanded domestically and internationally. Alongside its existing innovative technology consulting practice to large enterprise clients, Newt Global now has a well-established Offshore Development Center (ODC) at Chennai, India in the IT highway and has been rated by many clients as a, "world-class facility". Newt Global's mobility platform encompasses the entire process from conceptualization, development, and testing of enterprise class applications, to offering training on the mobile platform. Newt Global is also launching two applications on the android market, "FmFm" and "BillBell". Newt Global currently serves one of the largest telecom companies and one of the largest financial products companies, in addition to other clients from its development center. Newt Global is currently serving USA, UK and Middle East geographies.
"I feel keeping our focus to work with direct clients, cost consciousness, and superb customer service has paid off. We take our motto of "Aiming at Customer Delight" to our heart. We anticipate that Newt Global will continue growing at a phenomenal rate," Satish Goel, Vice President and founder of Newt Global said.
About Newt Global Consulting, LLC
Newt Global Consulting is a MBE/WBE/HUB Certified Global IT services company headquartered in Irving, Texas and is a Tier-1 vendor to multiple Fortune-500 clients. They specialize in a range of IT services that include any-shore consulting on a broad range of technologies, mobile development, QA and program management. Newt Global leadership is committed to staying at the forefront of technology and has invested in building a mobile development / testing framework and has recurring training programs on both iOS and Android. Learn more at http://www.newtglobal.com