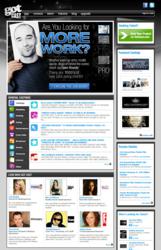 We're looking to maintain that success by building tools for casting directors and producers that make it easier to fill the specific roles they're searching for.
Los Angeles, CA (PRWEB) May 29, 2012
GotCast.com is helping producers connect with professional talent and interesting people from across the country through their online community. By capturing and organizing talent submissions for various projects in a more efficient way, the online community is helping more people get in front of the hiring managers that get talent on television and in magazines.
Official Link: http://www.gotcast.com
GotCast is currently powering online auditions for preliminaries of Donald Trump's Miss USA Pageant, a number of new reality docu-dramas, a sports reporting position and a number of other media projects. The website posts thousands of new projects every month.
Notable Bookings:

ABC's Wipeout (Jen Duran)
E! Entertainment Host (Andrea Rene)
HDnet's Get Out! (Naureen Zain)
Oxygen Network's Bad Girls Club (Portia Beaman)
Subway Commercial (Eddie Mata)
Grill it with Bobby Flay on Food Network (Jason Keefe)
Project Runway Model (Erin Burton)
Fitness Spokesmodel (Ashton Shane)
view more testimonials at http://www.gotcast.com/content/testimonials.aspx
"Every week we're hearing from members that landed an audition or booked a job" said Jay Seligman, Community Director from GotCast.com. "We're looking to maintain that success by building tools for casting directors and producers that make it easier to fill the specific roles they're searching for."
ABOUT GOTCAST: GotCast is the premier entertainment industry community, boasting a robust, interactive casting and contest platform. The website serves media and production companies from across the globe in over 150 markets. GotCast members encompass a full-spectrum of interests and involvement in the entertainment industry. They are models, actors, fans, bloggers, industry executives, writers, TV hosts, celebrities, managers, photographers and more. GotCast connects people with industry projects, exclusive opportunities, and original content. GotCast.com