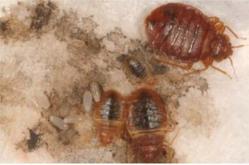 ...hough made from natural ingredients,...the product is mild on health and the environment but tough on the pests.
Cincinnati, OH (PRWEB) May 31, 2012
Bed bugs were back in Hempfield Towers, a report from triblive.com entitled "Bedbugs reported anew at Hempfield Towers" said last May 23rd. It was said that the pests were sighted in four units of the senior housing building. To help authorities and other bed bug sufferers clear the pests safely, online company BedBugBully.com suggested that they use a pesticide-exempt bed bug solution.
The pests infested seven units in the building last March according to the report. Remediation by an outside exterminator was implemented to clear them. However, it was said that inspection was done only on rooms suspected to have bed bugs.
For this recent outbreak, authorities plan on hiring again a third-party exterminator, said the report. However, they will change their method of elimination, it was added. Instead of just checking a number of units, they scheduled a mandatory inspection to all 202 apartments.
Here's an excerpt of a post Bed Bugs Reinfested Hempfield Towers by BedBugBully.com.
"Bed bugs are a nuisance. There is no doubt about that. They can bite and leave you with red and itchy welts. Even after a bed bug treatment, they can also return and cause you more problems. And that is exactly what Hempfield Towers experienced.
The senior residence building was scheduled for a mandatory inspection last week due to reports of bed bug re-infestation. Just March of this year was the last encounter of the residents with the blood-sucking insects. As many as seven apartments were reported infested and had to be remediated."
Read more about Bed Bugs Back at Hempfield Towers at: http://www.bedbugbully.com/bed-bugs-hempfield-towers/
There are a lot of problems that bed bugs can bring. And for that, they deserve to be eliminated said the online company BedBugBully.com. However, it added that prevention and inspection must always follow the initial bed bug treatment as it is always possible for the pests to come back.
To implement a safe and effective bed bug treatment and to prepare for the probable bed bug re-infestation, the website recommended the use of its Bed Bug Bully solution. It said that the bed bug spray is pesticide-exempt. And though made from natural ingredients, it assured consumers that the product is mild on health and the environment but tough on the pests.
Additionally, the website encouraged consumers to get a complimentary of the solution to prove its safety and effectiveness.
Grab Your Own Bed Bug Bully Sample Today