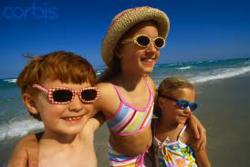 Most people will have 80% of their UV exposure by the time they are 18
Mechanicsburg, PA (PRWEB) May 30, 2012
Warm weather is right around the corner. Children and their families will be enjoying more outdoor activities and planning family vacations to the beach. Parents and children are becoming more accustom to applying sunscreen to their skin, whether it's a cloudy or sunny day, to protect themselves from the harmful UV rays of the sun, but what are they doing to protect their eyes from these same harmful rays?
Lathering on the sunscreen is great, but running around without sunglasses can lead to overexposure to UV Rays and can cause abnormal growths on the eye surface, and even sunburn of the eyes that may cause temporary vision loss, or even blindness. Most people will have 80 percent of their UV exposure by the time they are 18, so children especially need to wear proper sunglasses to prevent any damage.
The Pennsylvania Association for the Blind is encouraging these 5 ways to prevent eye damage from exposure to UV rays;
1. Wear protection eyewear any time the eyes are exposed to UV rays, even on cloudy days and during the winter.
2. Look for quality sunglasses or contact lenses that offer good protection. Sunglasses or protective contact lenses should block out 99 to 100 percent of UV-A and UV-B radiation and screen out 75 to 90 percent of visible light.
3. Check to make sure sunglass lenses are perfectly matched in color and free of distortions or imperfections.
4. Purchase gray-colored lenses because they reduce light intensity without altering the color of objects to provide the most natural color vision.
5. Don't forget protection for young children and teenagers, who typically spend more time in the sun than adults and thus are at greater risk of damage. Have children and teenagers wear sunglasses, or protective hats that shade the eyes from the sun.
For more information on protecting your eyes from UV Rays, visit; http://www.pablind.org
Contact: Katie Schock - PA Assn. f/t Blind Phone: 717-766-2020 Email: Katie.schock(at)pablind(dot)org
Beaver Co. Assn. f/t Blind, Berks Co. Assn. f/t Blind, Blair/Clearfield Assn. f/t Blind, Blind & Vision Rehabilitation Services of Pittsburgh, Bucks Co. Assn. f/t Blind, Butler Co. Assn. f/t Blind, Cambria Co. Assn. f/t Blind & Handicapped, Center f/t Blind & Visually Impaired, Central Susquehanna Sight Services, Center for Vision Loss, Chester Co. Assn. f/t Blind, Fayette Co. Assn. f/t Blind, ForSight Vision, Greater Wilkes-Barre Assn. f/t Blind, Hazleton Blind Assn., Indiana Co. Blind Assn., Keystone Blind Assn., Lackawanna Branch –PAB, Lawrence Co. Assn. f/t Blind, Montgomery Co. Assn. f/t Blind, North Central Sight Services, Nu Visions Center, South Central Blind Assn., Susquehanna Association f/t Blind & Vision Impaired, Tri-County Assn. f/t Blind, Venango Co. Assn. f/t Blind, The Sight Center of Northwest PA, Washington-Greene Assn. f/t Blind, Westmoreland Co. Blind Assn.