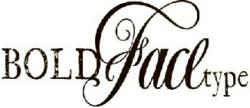 NORTH ADAMS, MA (PRWEB) May 31, 2012
Excelsior, an integrated marketing, product and fulfillment company, announced at the National Stationery Show a unique partnership with Bold Face Type, an exciting, new card and stationery company headquartered in New York. The announcement coincides with Bold Face Type's Spring 2012 collection unveiled at the Stationery Show. Through its new "Graphic Solutions" program, Excelsior will provide Bold Face Type with all print, inventory management and fulfillment solutions.
Brendan Burns, the CEO of Excelsior, said, "Michele Mikeska and Lindsay Bruno have quickly established a strong following among hip, contemporary women who want to express themselves through attractive, sophisticated and clever cards that speak their language. Ironically, achieving rapid success required them to focus more on production and logistics than designing great cards. Working together, we have customized a solution that allows Michelle and Lindsay to focus on what they love to do and do best…make great cards."
Mikeska, cofounder and artistic director of Bold Face said, "When we started Bold Face it was driven by a passion for creativity along with an artistic sensibility and humor that we knew would resonate with a sophisticated female audience. However, as our brand and distribution grew we found ourselves having to spend more and more time managing printing, fulfillment, inventory management and less time making cards. Our partnership with Excelsior allows us to refocus on what we love doing…creating cards, making connections and starting conversations."
Beginning with the Bold Face partnership, Excelsior is launching its Graphic Solutions service - a turnkey service system for any paper-based, graphics or content-driven company that wishes to outsource product manufacturing, fulfillment and inventory management. Excelsior works with each partner to develop on-line tools to help them better manage their business and profitability, and can offer any level of operational support a company requires for success.
Graphic Solutions include, but are not limited to:
Complete printing and packaging
Warehousing and fulfillment
Sales rep and retail management
Same or next-day shipping
Trade show support
Lead management
Excelsior is uniquely suited to create this cutting edge relationship with artistically driven entrepreneurs given its years of experience in the greeting card, printing and fulfillment industries.
******
About Excelsior
Excelsior is dedicated to providing its customers with creative, cost-effective printing, digital communications and distribution programs that give a competitive edge in developing their businesses. Based in North Adams, MA, the company works with organizations ranging from leading retail product and packaging companies, to museums, colleges and universities, and leading travel and tourism destinations.
For more information on how you can develop and improve the execution of your marketing and production efforts with the help of Excelsior, please contact Joe Gallagher at jpgallagher(at)excelsiorpinting(dot)com. You can also visit our website at http://www.excelsiorprinting.com and follow us on Facebook and Twitter.
About Bold Face Type
At eleven, somewhere in Missouri, Lindsay told her parents she was going to start a card company. They told her to finish the fifth grade. Meanwhile in Texas, Michele was designing Valentines for the boys in her class. And all the other classes.
Way after fifth grade, the two met in New York when partnered up as a creative team while working in advertising. Like any good girls from a little south, the two bonded over BBQ and beers before deciding to make their childhood dreams an adult creation.
Besides the kid stuff, Michele and Lindsay also shared a slightly skewed sense of the world that translated sharply into cards. With Lindsay jotting out the copy and Michele bringing in the design, Bold Face Type was formed.
When it comes to their company, they have a lot of aspirations, but for their cards – just a few. They want to make you laugh, help you connect and start a conversation with your loved ones. Anything else is more than they ever could've dreamt up at age eleven.
Bold Face Type resides in over 100 boutiques in the US including national retailers like Paper Source and Barnes and Noble. They are also making appearances in the UK and Canada.
Please see the full line/download the entire catalog at http://www.boldfacecards.com.
Bold Face Type
A communication boutique
244 5th Avenue #M251
New York, NY 10001
646.345.3881
orders(at)boldfacecards(dot)com
http://www.boldfacecards.com
Joe Gallagher
Excelsior
413.398.1435
jpgallagher(at)excelsiorprinting(dot)com
http://www.excelsiorprinting.com
http://www.excelsiorintegrated.com