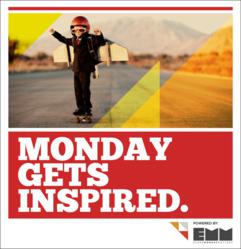 88 percent of graduate students and young professionals factor an employer's CSR position into their job decision. And 86 percent would consider leaving a job if their employer's CSR performance no longer held up.
2011 PwC
Los Angeles, CA (PRWEB) May 31, 2012
Every Monday Matters, an innovator in Social Responsibility and Employee Engagement programs, will be exhibiting at the 64th Annual SHRM Conference and Exposition this year in Atlanta, GA on June 25 and 26. This annual conference is one of HR's biggest events of the year and there is a wealth of opportunity from networking to education, including certificate programs, business education courses and executive education programs led by experts in the HR field.
Attendees can also expect to be inspired and motivated by the stellar line-up of speakers including Tom Brokaw, Condoleezza Rice, Jim Collins and Malcolm Gladwell. "This is the place to be for HR professionals, and we want to get the word out about how we are helping companies improve employee engagement, employee satisfaction and community relations through our corporate programs. There is not anything like what we do out there in the market, and we want to spread our message that people matter and that the collective action of empowered employees can have an extraordinary impact in their organization, their communities, and their families" Matthew Emerzian, CEO of Every Monday Matters comments.
Every Monday Matters(EMM) specializes in inspiring people to get involved and to make a difference. From individuals to families to schools and companies, EMM is changing the world...one person, one action, one Monday at a time. To foster and grow a corporate culture of purpose, significance and impact, EMM has developed a valuable solution called the Every Monday Matters Corporate program. For the past two years, this program has been successfully implemented in Fortune 100 and large companies across the country with profound results. This summer, EMM will be launching their Small Business Program and, in May, the company was featured in an article on FastCompany.com.