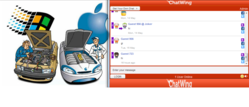 Jacksonville, FL (PRWEB) May 29, 2012
Viruses are too common in many computers all over the world today. Based on numerous statistics, millions of computers are affected by different types of viruses, malwares and spywares. Because of this, many vigilant anti-hacker online communities were built. These communities tackle great preventions against viruses, aside from relying on anti-virus applications. Chatwing, an expert in global website chat, offers one hundred percent support for these people.
Chatwing offers help, not in the way of blocking viruses directly, but through online awareness. According to Chatwing's developers, the chat box serves as a bridge of communication that connects large groups of people. Chatwing has also helped a lot of bloggers because of its key features.
One of the notable features of Chatwing is Facebook integration. This feature allows Chatwing users to log in with their Facebook accounts, useful for widening social networks. Bloggers who are also online entrepreneurs have benefited a lot from this feature. In a way, Chatwing becomes a part of any marketing process. Some people are also using Chatwing's Facebook integration to find interesting Facebook groups.
Chatwing's web chat platform is also built to help bloggers gain the right online presence for their blogs. Blog chatting is one of the preferred ways of PC users when it comes to discussing the height of damage that viruses can do. Through virus prevention blogs, people are now becoming more aware of the steps they need to take.
The Chatwing chatrooms development team has also observed that blogs with Chatwing installed have visibility spikes by more than fifty percent. The percentage varies depending on the content of the blog. If the blog has interesting posts, it has the potential to attract lots of visitors within a given time. Ease of access is also one of the features that have attracted a lot of users for Chatwing. People loved the fact that installation of the Chatwing shoutbox takes only a few seconds, compared to other chat applications.
About Chatwing.com
Chatwing.com has developed live chat software for websites and blogs. It caters to different online communities due to its high rate of connectivity. Everyone can create a customizable live chat widget in 1 minute or less. Users have the ability to customize the size, color, and fonts of the chat product. The ability to chat via social media accounts such as Facebook and Twitter enable Chatwing to offer a personal and unique real-time experience to all sites. Chatwing is 100% free and very easy to use.