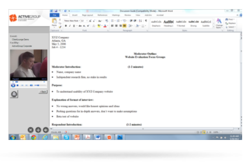 Technology should solve problems in simple and effective ways. But there is always the dazzle factor that we consider...
Atlanta/London/Sofia (PRWEB) May 30, 2012
"We see it time and again when we're in the field with our clients," says Brian Sites, Director Global Product Management and Marketing for video streaming and qualitative research technology specialist ActiveGroup Ventures, Inc.
"When a researcher is viewing their focus groups and interviews remotely, they are constantly working between our viewing interface and a variety of business applications. ActiveGroup Sidebar eases that process so that a researcher can view their research and work in other business applications simultaneously, without having to minimize and shuffle multiple windows."
Video streaming has become an effective and ubiquitous solution for saving travel and time-out-of-office costs. But given the shortened timeframes and heightened demands for output, working in multiple applications--sometimes across multiple projects--simultaneously is just par for the course for today's researchers.
As a beta release, Sidebar will allow researchers to access their live and on-demand qualitative research via ActiveGroup videostreaming. Sidebar launches as a desktop application and positions itself on the left side of the user's desktop. Other applications can be launched while the researcher is viewing their sessions, with Sidebar remaining visible at all times while utilizing minimal critical desktop space.
"What we find is that it is usually the small things that create the most excitement with our clients," says David Nelems, President and Founder. "Technology should solve problems in simple and effective ways. But there is always the dazzle factor that we consider—keep it simple, but show the user something that maybe they had not thought of before. There are a few surprises in Sidebar and there will be more to come as we move toward a full release in coming months."
One of those surprises is what Nelems refers to as "Ghosting". In Ghosting mode, the user can peer through an opaque full screen image of their media as it plays, but work in other windows on top of the image.
ActiveGroup Sidebar will be available in Beta release beginning today and will remain in Beta throughout the summer of 2012 while the development team works on new features and online and mobile tie-ins as well as cross-platform functionality for Mac.
Download the ActiveGroup Sidebar Beta here: http://www.activegroup.net/index.php/products/connections-ag/sidebar-beta.
About ActiveGroup Ventures, Inc.
Founded in 1999, ActiveGroup was the first company to offer video streaming to the marketing research industry. Headquartered in Atlanta and with offices in London and Sofia, the company has an extensive global network consisting of 1200+ permanently installed video streaming rooms in more than 45 countries, offering clients the global footprint they need to conduct their qualitative market research initiatives. ActiveGroup Ventures, Inc., is a division of The MVL Group (http://www.mvlgroup.com) - The Foundation for Informed Decision Making.
All product and company names herein may be trademarks of their registered owners.