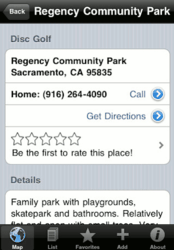 Reston, Virginia (PRWEB) May 31, 2012
MapMuse today announced that it has lowered the price of its Disc Golf Course Locator, a popular app for the iPhone, iPad, and iPod Touch that maps disc golf (a.k.a. "Frisbee golf") courses across North America and Europe. The app, which used to sell for $2.99 on the iTunes App Store, has been permanently discounted to $0.99.
"The goal of this price change is to get more disc golfers to download our app," says Mike Pilon, owner of MapMuse. "The more users, the richer the user experience." Disc golfers who download the app are encouraged to submit new courses they learn of and review ones they visit, two features enhanced by a larger user base. Although the Disc Golf Course Locator comes preloaded with over 4,000 courses, most of which have been officially recognized by the Professional Disc Golf Association, the worldwide disc golf community is an invaluable asset when it comes to mapping new ones and determining which are especially worth playing.
"This app has become so much more than simply a database of courses," says Pilon. "It's become a course review and photo-sharing platform for thousands of Frisbee golfers around the world." Reception to the app has been overwhelmingly positive since its October 2011 release, with over half of the submitted reviews on the iTunes App Store awarding it a perfect five stars. New golfers tend to use it to find nearby courses to hone their skills, while more experienced ones tend to use it to find courses while traveling to play and review. All courses in the app can be geolocated on the map and reached via one-touch driving directions, and most listings include helpful information such as course length and number of holes. "We try to make it as easy as possible for newcomers to find and learn about these courses," says Pilon.
In the interest of attracting Frisbee golfers without an iPhone, MapMuse has made a free web version of the Disc Golf Course Locator available on their website. It maps all the courses included in the app, but without the helpful mobile features (e.g. no photo sharing, no instant driving directions from your current location). Disc golfers with a Droid can expect a version for their platform to be released sometime in 2012.
MapMuse, an internet and app company based out of Reston, VA has created dozens of apps and thousands of web maps that locate various interests and brands. Users of the Disc Golf Course Locator may enjoy some of their other recreation-based locators apps, including the State Parks Locator and the Batting Cages Locator.
For more information and a download link for the Disc Golf Course Locator, please visit http://www.mapmuse.com/discgolf.