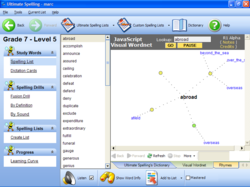 New York City, NY (PRWEB) May 30, 2012
With thousands of children begging their parents to let them learn, Ultimate Spelling™ has already proven its worth as one of the world's most successful spelling tutorial software packages. Adding to their success, the company behind the product today announces their latest upgrade.
Ultimate Spelling™ 2012 is poised to become a world-leading solution to accelerated spelling improvement. The new 2012 upgrade boasts many new and exciting features, as well as improvements on the package's existing offerings.
Among them, the intuitive list-building feature allows children to quickly enter any word or group of words into fully-customizable lists, perfect for spelling bee preparation.
"Our new 2012 Ultimate Spelling™ upgrade places a huge focus on customization and personalization" says Marc Slater, Managing Director of the company behind the software.
He continues, "Our research has shown that people really want to make spelling software their own, configuring it to work exactly how they want it to, thus providing an even quicker way to improve spelling."
In fact, the software contains 142,647 words, all of which are available for inclusion within customized lists.
The software is praised by many for its ability to make children want to learn, something Slater believes is vital for success.
"Children have spent too long being forced to learn and recite boring lists or sit through mind-numbing tests. Therefore, we take a fun and interactive approach which essentially makes the child forget that they are learning, and allows them to have a lot of fun."
The new 2012 upgrade comes as standard with all new Ultimate Spelling™ purchases. Those already owning the software will have an opportunity to download an update and take advantage of the awesome new features for a nominal fee.
For more information, please visit the official Ultimate Spelling™ website: