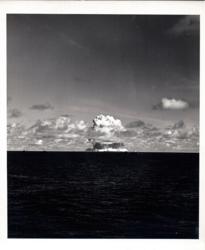 We were very happy with the prices realized for our first photography auction. Our consigners were very happy and I look forward to all the possibilities for our next auction in October. -Dan Silverman, Photography Specialist, Kaminski Auctions
Beverly, MA (PRWEB) May 31, 2012
Kaminski Auctions is proud to announce the news from their inaugural Photography Sale as well as their Spring Fine Arts Sale. Both auctions were held in their gallery at 117 Elliot Street, Rte 62, in Beverly, Massachusetts.
Bidding began at 6:00 PM on May 16th for a diverse collection of vintage and modern photographs. Several prominent Daguerreotype collectors were in the audience and the sale involved lively bidders over the phone and on the Internet. The top lot was a rare and important piece from the Manhattan Project collection, including letters, schematics, negatives, and aerial shots of Hiroshima and Nagasaki, Japan after the dropping of the atomic bomb, as well as images of the explosions. The lot sold for an impressive $53,000. A historic Daguerreotype of the 1853 Massachusetts Senate Convention, attributed to John A. Whipple, picturing the 20th Governor of Massachusetts, George S. Boutwell, sold for $16,380. Boutwell also served in Congress from Massachusetts during the Civil War. Another top lot was a Philippe Halsman (Latvian-American 1906-1979) signed and stamped photograph of Salvador Dali, printed in 1970, which sold for $14,400.
Other noteworthy sales included an original photograph of Winston Churchill, signed and stamped, by Armenian photographer Joseph Karsh which sold for $5,850. A rare collection of 27 photographs, individually and dated, including Che Guevara, by Cuban photographer Liborio Noval achieved $6,000. A Helmut Newton photograph from 1975 French Vogue magazine, signed and stamped, printed in 1982, also sold for $6,000. A rare ambrotype of Niagara Falls circa 1857 by Platt D. Babbitt, an American photographer, sold for $4,972.50. The image was taken from table rock and aimed at Horseshoe Falls across Prospect Point. A photograph of Fidel Castro playing baseball, originally owned by Argentina Estevez, captured $3,900.
Three significant pieces by well-known photographer, Weegee, also achieved significant sales. A rare self-portrait photograph, signed "To Joe," dated 1949, and previously belonging to Joe Jasger, a photographer in Los Angeles with a studio near Weegee, sold for $3,240. An exhibition print of a man sleeping on a sidewalk in front of Dunhill Funeral Home, dated to the mid 1940s, sold for $1,800. And another rare self-portrait, signed "To Joe/Weegee," sold for $1,680. Joe Jasger, a photographer in Los Angeles with a studio near Weegee, previously owned all three of these works.
The next day, on May 17th at 6:00 PM, Kaminski held its Annual Spring Fine Arts Sale, a show that captured a variety of collectors' interests, from American paintings to Old Master works, to pieces by Auguste Rodin and Salvador Dali. The top lot from this sale was David Aronson's "Harlequin" bronze standing figure, which sold for an incredible $11,700. Next, a framed oil painting by French artist Claude Joseph Vernet achieved a sale of $8,700.
Other notable lots included an oil still life with a mandolin, signed and dated 1971, and attributed to French artist Bernard Buffet, earned a sale of $6,600. British artist, Brian Coole's framed oil on board, signed RMS Titanic off South Hampton sold for $6,000.
An important Italian work from the first half of the 17th century and produced by the School of Caravaggio, depicting a Mocking of Christ, sold for $4,800. A signed watercolor and pencil on paper piece by famous French artist, Auguste Rodin of a female nude from the Cambodian dancer series, also sold for $4,800.
Upcoming auctions include a Vintage Couture sale on Thursday, June 7th beginning at 6:00 PM, and a June Estate Auction on Saturday June 16th beginning at 11:00 AM. For more information, please visit us online at http://www.KaminskiAuctions.com.
Kaminski Auctions is located on the North Shore of Boston. For over 25 years, it has served the New England art market, acting as a full service auction house and appraisal service for fine art, antiques and estates. With two locations in Beverly, Massachusetts, including a new state of the art auction gallery located at 117 Elliot Street, and a historic 1850s barn and office facility at 564 Cabot Street, Kaminski Auctions hosts 16 sales a year.