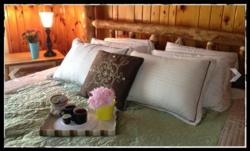 " I think guests will feel like it's a dream-come-true" said Branstrom.
Ely, Minnesota (PRWEB) May 31, 2012
In the wake of a bewildering 3-alarm fire that shuttered this resort in 2011, there were more questions than answers. And for the staff as well as the loyal guests the largest was "will we reopen". And now the answer is known – "yes".
Timber Wolf Lodge has rested along the shore of Bear Island Lake for 75 years. Guest journals going back decades tell of family adventures, of grandfathers teaching grandsons to fish and of wholesome memories captured in time.
"Gosh I can't imagine not reopening. Even in the darkest times last year I always had this enduring belief that we'd come back." commented Steve Branstrom, the new General Manager of Timber Wolf Lodge.
"And now I feel this great anticipation of working alongside my colleagues in this community. Together we get to watch the resort reemerge. I've seen the plans and they are really beautiful." Said Steve Branstrom
Brett Davies is the local Ely, MN-based contractor who secured the bid. Brett has been a fixture in the Ely, Minnesota community for many years. He is tasked with complete remodels of 5 cabins while Branstrom and his crew refresh the others.
Log exteriors are a favorite of Timber Wolf Lodge guests. The resort plans to add more log exteriors this year. Some of the cabin garages will be converted to three-season porches. And then there are metal roofs to install and the like. It's a significant project in scope."
The new owners of Timber Wolf Lodge asked Branstrom to keep as much money local – knowing that construction breeds health into a local economy. The resort has hired Voyageur Lumber, Serena's Carpeting, Brown Electric and Schulze Excavating. The construction money will definitely stay in Ely and Babbitt, MN.
In addition to Minnesota family resorts such as this, the Ely and Babbitt communities offer the world-renown Boundary Waters Canoe Area Wilderness, an untouched sanctuary where motors of any sort are disallowed and where thousands turn for solace and an escape from the rigors of life. Canoeing is just one of dozens of activities that the area features. Mountain bikes, fishing, hunting, nature hikes, geocaching and ATV tours are just a few of the area attractions.
Locals say that annual attractions draw thousands more as the summertime population of Ely swells from 4,000 to tens-of-thousands. The Blueberry Festival and Art Exhibit as well as the Fall Harvest Moon Festival are two of the most successful Ely events.
Timber Wolf could have been shuttered for good. That would have been lousy for the local economy. When folks arrive for Blueberry Fest or others events they come from all over the US. And Timber Wolf Lodge has been a resort destination for event attendees for 75 years. Timber wolf Lodge will be proud this year as returning guests step into these newly renovated cabins. " I think guests will feel like it's a dream-come-true" said Branstrom.
Photos of the resort and the craftsmanship of Davies Construction are available on the website at http://www.timberwolflodge.com.