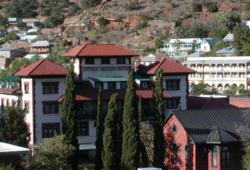 Portal, Arizona (PRWEB) May 31, 2012
To celebrate Arizona's Centennial, state of the 48th star on the flag, the locally-owned company Naturalist Journeys announces a fall tour, Vintage Arizona: A Mix of Nature, History & Fun. Travelers explore the remote and rugged Southeastern corner of the state. Here, the company's select local guides weave a vibrant tale of Arizona history – both cultural and natural. This eight-day ecotourism adventure takes place October 20-27, 2012, at the peak autumn color, when in canyons that once held homestead farms and orchards, wild maples turn red, cottonwoods yellow, and sycamores burnt sienna.
Starting from Tucson, travelers enjoy an introduction to the region at the Arizona Sonoran Desert Museum before heading south to explore historic missions along the Santa Cruz River. Close to the widely-known artist's mecca of Tubac, the group will explore Tumacacori National Historical Park, where a Spanish mission was first founded in 1691.
A Smithsonian-affiliated museum gives depth to a visit to the colorful and historic mining town of Bisbee, one of the richest mineral sites in the world. An incredible 8 billion pounds of copper was mined in the surrounding Mule Mountains, in addition to over 3 million ounces of gold and silver, zinc, and lead. By the early 1900's, Bisbee was the largest city between St. Louis and San Francisco, with a population of 20,000 people. Today, Bisbee is known for its art galleries, eclectic residents, and fun places to dine.
Close to Bisbee, is Tombstone, the "Town Too Tough to Die," site of the OK Corral. There, Wynne Brown, local author of More Than Petticoats: Remarkable Arizona Women and guide for the tour, tells of life on the frontier in Arizona through a woman's eye. Another highlight will be touring the underground realm of one of Arizona's newest state parks, which contains the beautiful Kartchner Caverns.
The tour encompasses sites on both sides of the Chiricahua Mountains, home of Cochise, a legendary Apache chief. On the west sides of the range, travelers view Chiricahua National Monument, with its "Wonderland of Rocks", an extraordinary area of striking geological features and enormous biodiversity. The Tenth Calvary Buffalo Soldier Camp was based along Bonita Creek here in 1885-1886. On the north side of the range, participants hike to Fort Bowie National Historic Site, and on the east side explore little-known historic Fort Rucker and a quiet cemetery on the road from Portal to Paradise.
Accommodations selected for this Centennial-celebration journey include locally-owned inns: the Amado Territory in Amado, the Casa de San Pedro in Hereford, and Cave Creek Ranch in Portal. Arizona wines and foods will be featured in local restaurants and with catered meals.
The week-long tour is aptly named Vintage. Find the full itinerary on Naturalist Journeys' website.