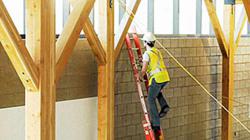 Novi, MI (PRWEB) May 30, 2012
How far from the base of a structure should an extension ladder be placed? How high up the rungs can a worker safely climb? Those questions and many more are answered by the new ladder safety training offered by Mastery.com."Using Ladders Safely," produced by CLMI, helps workers understand what type of ladder to use for which jobs, what American National Standards Institute ladder ratings mean, and how to prepare worksites for safe ladder use.
Viewers learn about stepladders, extension ladders and articulated multi-purpose ladders, including how to inspect each type of ladder for damage and safety hazards. The importance of maintaining three points of contact while climbing or descending a ladder is explained and the proper hand-hand, foot-foot method of climbing is demonstrated. Tips for setting up the ladder, positioning oneself on the ladder, maintaining balance and stability, and transporting tools and equipment up a ladder are covered. Positioning ladders on soft or uneven surfaces is explained, and viewers learn when to seek an alternative method of elevation when ladder use cannot be made safe.
This high-definition video is applicable to homeowners as well as those in building trades or custodial/maintenance positions. Falls from elevations are among the most frequent causes of worker and homeowner injuries, and can be the most devastating."Using Ladders Safely" helps everyone who climbs a ladder to perform a simple or complex task do so with greater awareness of the risks involved and knowledge of how to lessen the risk of injury.
The Advantage™ course is available for pay-per-play pricing at $19.95 per play. Mastery awards continuing education units (CEUs) for the completion of the course; additionally learners may print certificates of course completion from the web site.
As an Advantage™ course, lesson interactions are included, providing opportunities for the worker to apply what he or she learned. To ensure the promise of mastering all course objectives, each missed question is followed by a review of the specific content. At the end of each lesson's quiz, the learner's attention is focused on personal areas of difficulty until mastery is successfully demonstrated.
About Mastery Technologies Inc.
Mastery Technologies, founded in 1974, has partnered with leading video content providers to co-produce the largest interactive multimedia training library available to the workplace health, safety and environmental marketplace. Today, Mastery is extending its model to encompass all areas of workplace training. Mastery has helped thousands of companies develop greater competency and have created safer and secure workplaces. By expanding the scope of training Mastery believes it can enhance customer benefits, and help build more successful and effective organizations. Mastery's ultimate vision is to help reach every working individual with quality training.