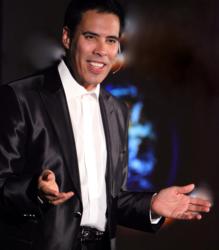 I am most honored to headline and host such a great event.
Los Angeles, CA (PRWEB) May 29, 2012
Freddie Ravel corporate events entertainer is headlining Valley Cultural Center's First Annual Jazz Festival on Sunday, June 3, 2012. The event is free to the general public with attendance expected to reach six thousand.
Mr. Ravel will be hosting and performing with other jazz greats like Saxophonist Everette Harp, the super-charged 12-piece band, BERN, and CSUN's Enderman Quintet.
The Valley Cultural Center's First Annual Jazz Festival adds to its extraordinary line-up of entertainment programs from concerts, movies on the green and special events. Since 1975, the Valley Cultural Center serves the greater San Fernando Valley and Los Angeles as the prominent resource in promoting the performing and visual arts.
Corporate events entertainer Freddie Ravel has this to say, "I am most honored to host such a great event. As a family man, giving back to my community is an important aspect of my life. Though I have traveled the globe entertaining for royalty and some of the largest corporations in the world, this event is what music is about supporting education and bringing businesses and community together and I thank the Valley Cultural Center for having me."
The L.A. Times writes: "Ravel masterfully blends jazz textures, rock energy & tropical rhythms," acknowledging a career that spans two decades across six continents with such icons as Earth, Wind & Fire, Sergio Mendes, Madonna, the Boston Pops and Rock legend, Carlos Santana.
"His valuable lessons were implemented immediately." Morgan Stanley
About Freddie Ravel
Universal Music released the L.A. native's three top-charting solo albums including the #1 hit in America, "Sunny Side Up" while his upcoming book "Tune UP to Success", and subsequent CD are to be released January 2013.
Awarded the title "Motivational Maestro" by the City of Los Angeles along with accolades ranging from Prince, Madonna, Santana and The Boston Pops to NASA and Apple, Freddie combines his number-one hits and Grammy nominated recordings with his renowned Tune UP to Success programs, bringing the power of music to enhance everyday life.
As an expert on music and business integration, his media appearances include FOX, ABC, Deepak Chopra's XM Sirius radio show and clients such as Andre Agassi, USC, NASA, Apple, Microsoft and Citi.
Bring the power of Freddie Ravel's "Tune UP to Success" for corporate and special events by clicking here.
To schedule an event go to http://www.tuneuptosuccess.com.