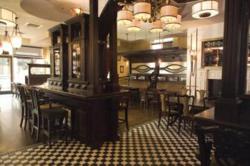 Annapolis, MD (PRWEB) May 30, 2012
Fado Irish Pub and Restaurant Annapolis, located just west of downtown Annapolis, on West Street in Park Place is now using online restaurant reservation service, OpenTable. Patrons of Fado Irish Pub and Restaurant can now reserve a table at the Annapolis bar and restaurant by simply using the OpenTable icon on the Annapolis pub's website. Those looking for Irish food or European draft beers in the Annapolis area will find Fado Irish Pub Annapolis by browsing through restaurants listed on OpenTable's website.
The Annapolis pub's OpenTable icon sits on the menu page of their website. After browsing through the West Street bar's wide selection of traditional Irish items and contemporary fare, a dinner reservation at the West Street restaurant can be made by a few clicks directly on the page. The service is free and allows for convenient dinner planning. Diners will even receive an e-mail reservation reminder.
"Our customers really enjoy using the OpenTable platform because the service makes it so easy for them to reserve a table at the pub. We've also had many first time customers come in recently because they discovered us on the OpenTable website," said Fado Irish Pub and Restaurant Annapolis Assistant General Manager, Bernie O'Brien.
The Annapolis Irish pub attracts a diverse clientele ranging from Annapolis professionals entertaining clients to young people enjoying happy hour at the Park Place pub with friends and couples enjoying a casual night out. The West Street Restaurant features authentic Irish décor and was constructed in Ireland then shipped to Park Place in Annapolis. The Annapolis pub offers happy hour deals, special events, weekly trivia nights, Annapolis live music and live European sports.
OpenTable reservations for Fado Irish Pub and Restaurant Annapolis can be made by visiting fadoirishpub.com/main-menu or opentable.com.
To learn more about OpenTable and Fado Irish Pub and Restaurant, please visit the Annapolis bar and restaurant's listing on OpenTable's website: http://www.opentable.com/fado-irish-pub-and-restaurant.
Fadó Irish Pub & Restaurant:
Fadó Irish Pub & Restaurant is an Irish Pub distinguished by its genuine Irish hospitality, quality and craic (Gaelic for good times). Fadó was formed by three Irish and Irish American entrepreneurs and opened in Atlanta in January 1996. Currently, you can enjoy traditional Irish food, perfect pints and a bit o' craic in 14 different cities around the country including Atlanta, Annapolis, Austin, Chicago, Columbus, Dallas, Denver, Miami, New York, Philadelphia, Stamford, St Louis, Seattle and Washington D.C.
# # #