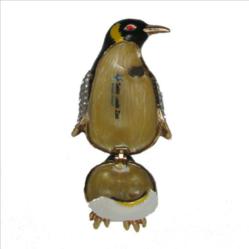 Survey showed that 52% of business who used promotional gifts received repeat business.
Los Angeles, California (PRWEB) May 31, 2012
Personalized gifts have a proven track record of improving support for zoos. Historically, they have been used by event planners to show their customers and supporters that they are grateful for everything they do. In the past, it was hard to find gifts which were themed after specific species and which could also be personalized. For example, zoos around the country have found that their visitors love to celebrate their animals' births. What better way to commemorate the occasion than with a photo of the little one? But how does an event planner accomplish this quickly so that she can seize the moment of celebration in a unique gift? Now, a company called Sparkling Collectibles can achieve this. Through a proprietary process, the zoo's logo, photo or text can be permanently set inside an exquisite keepsake box in the shape of that specific animal. The event planner simply emails her photo, logo or text, and selects a style from hundreds of animals.
Event planners have found these boxes help to brand their zoos. These personalized treasures also help to keep the zoo on the minds of their visitors and volunteers. For instance, one of the largest zoos in the midwest, recently personalized 2,000 boxes with their logo as a gift to base of donors. It is also customary for each person attending a major zoo event to receive a gift bag. Why not have a personalized keepsake box with a picture of zoo's "latest edition" in each bag? The zoo's logo is also a popular way to stay present. This technique in marketing is important because it not only helps the zoo show its gratitude, but also reminds the volunteer that what they are doing is for a good cause.
What are some of the best ways to use personalized products? Two independent studies have shown that the promotional product industry is worth $17,854,482,234 in the U.S. and have many uses. You can promote your own website, achieve customer appreciation in turn generating repeat business, entice to buy more by offering a free gift with a certain amount spent, and/or send them to your affiliates to strengthen relationships and show gratitude. Another survey showed that 52% of business who used promotional gifts received repeat business. Something that all businesses should hope to achieve.
Sparkling Collectibles, a small business, understands the importance of promotional gifts through firsthand experience and has seen positive changes not only in their company but also their affiliate companies. In addition to animal keepsakes Sparkling Collectibles has products ranging from tea boxes, picture frames, and multiple standard box designs.
To learn more about Sparkling Collectibles visit their website at http://www.sparklingcollectibles.com
For more information of Promotional gifts, go to Promotional Product Association International website at http://www.ppai.org/