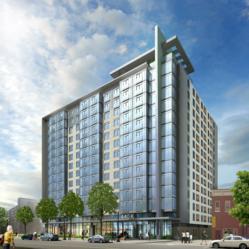 440 K is designed to meet the demands of District residents who place great value on lifestyle, outstanding service, accessibility, sustainability and design excellence
Washington, DC (PRWEB) May 29, 2012
This week, the development team of Quadrangle Development Corporation and The Wilkes Company commenced construction of 440 K, a 234-unit, 14-floor residential building, their fifth project at Mount Vernon Place. Scheduled for completion in the fourth quarter of 2013, 440 K will bring contemporary luxury apartments and more than 9,000 square feet of first floor retail space to this two million square foot mixed-use community – the largest such project in Washington, DC.
"440 K is designed to meet the demands of District residents who place great value on lifestyle, outstanding service, accessibility, sustainability and design excellence," said Christopher Gladstone, President of Quadrangle Development Corporation. "This beautiful Davis Carter Scott designed building will make an elegant architectural statement on Mount Vernon Triangle's "Main Street" and will place its residents at the heart of the thriving Mount Vernon Triangle neighborhood."
Approaching 440 K, residents and visitors will note the building's porcelain rainscreen exterior, which not only provides a stylish street presence but makes the building highly energy efficient. 440 K also features a sleek, contemporary lobby with a fireplace and seating areas for residents and guests. The building's many other amenities include a fitness center with floor-to-ceiling glass walls; a second floor tranquility garden with seating areas, a cozy outdoor fireplace, and water feature set amidst lush landscaping; and a rooftop terrace with resort-style lounge areas and swimming pools, shimmering water elements, a fire pit surrounded by comfortable seating, grilling areas and a large community lounge for residents and events they host.
440 K will have 182 one-bedroom, 26 one-bedroom with den, and 26 two-bedroom apartments, all featuring abundant natural light and condominium-grade finishes, from granite countertops and stainless steel Energy Star appliances to ceramic tiled foyers, kitchens, and bathrooms. Residents in 39 of the west-facing apartments will have balconies and seven apartments on the second floor will feature their own private terraces directly adjoining the tranquility garden. Additional conveniences include bicycle storage, a 96-space parking garage and 24-hour concierge service supported by a smartphone app for service on the run.
About Mount Vernon Place
Located in the heart of the nation's capital and steps from Metrorail, bus routes and parks, Mount Vernon Place is the spectacular new mixed-use community developed by Quadrangle Development Corporation and The Wilkes Company. When complete, it will comprise ten buildings with approximately one million square feet of office and retail space and another one million square feet of residential space. Master-planned by the renowned architecture firm Hartman-Cox Associates, together with leading landscape architects Sasaki Associates, Mount Vernon Place includes a series of office and residential buildings along K Street, NW and a 1,000-unit residential enclave along Massachusetts Avenue, Third and Fourth Streets, NW. The master plan also includes public art, cafés and finely detailed streetscapes.
About Quadrangle Development Corporation/The Wilkes Company Team
Mount Vernon Place is being developed in its entirety by a partnership between Quadrangle Development Corporation and The Wilkes Company, both Washington-based companies.
As one of Washington, DC's leading commercial and apartment developers and managers, Quadrangle Development Corporation brings more than 40 years of experience to Mount Vernon Place and 440K. Quadrangle's 22 million square feet of projects include urban and suburban office buildings, world-class hotels and resorts, multi-family communities, and mixed-use retail/office/living environments. The company is noted for the high quality of its buildings, which have garnered many awards, as well as its long-term ownership and investment philosophy. For more information, please visit http://www.quadrangledevcorp.com
Established in 1980, The Wilkes Company specializes in transit-oriented, mixed-use development. The company has also completed and owns several million square feet of adaptive use, historic preservation, industrial, and retail projects throughout the Washington, DC area. For more information, please visit http://www.thewilkescompany.com.