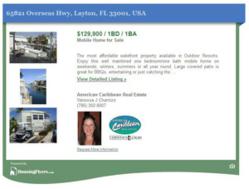 HousingFlyers.com makes it easy to create printable property flyers online and post a great looking real estate or rental ad on Craigslist.
Encinitas, CA (PRWEB) May 30, 2012
HousingFlyers.com recently updated their property listing and marketing platform allowing users to easily post and market property listings via print, web, mobile, and coming soon, video and email. A unique web listing and mobile listing are automatically created for each property and prominently featured on the homepage and above the search results.
A printable pdf real estate flyer, or rental flyer, is easily created with a unique QR code leading to the online property listing. Multiple real estate flyer templates are available ranging from 1 to 6 photos.
Posting listings on free classified sites like Craigslist(TM) and Backpage(TM) is easy with HousingFlyers.com's free html Craigslist real estate template. The property photos are hosted by HousingFlyers.com saving time and eliminating the need to reupload photos to multiple sites.
Coming soon is the addition of video slideshows created from the uploaded photos to use as a virtual tour link on various outlets including the MLS. Dynamic video presentations are created that captivate the user for around 2 minutes depending on the number of photos available. A lead generation version complete with contact information is created along with an mls-compliant version that's usable on the MLS.
Post an unlimited amount of listings and create an unlimited amount of printable real estate flyers at no charge on HousingFlyers.com.