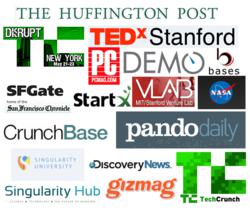 "Vergence Labs might be the Next Apple." -Frank Strallent, CEO, Shockproof
Palo Alto, CA (PRWEB) May 29, 2012
Imagine if your eyewear had a computer inside. What if your sunglasses could let you record and stream video -- seamlessly capturing your experiences as 1st person point of view perspective to share on the social web! Vergence Labs, a new California company is building this very product. Check out their trending kickstarter project by clicking to visit here.
These incredible new computer-enabled glasses are being produced by Vergence Labs under the brand "Epiphany Eyewear" and are currently pre-selling (for a $100 discount if you get them now) through pledges on kickstarter. In just a few short days, the team has managed to raise a substantial sum, and is increasing by the minute. Visit Kickstarter, check out the project, and pledge while there's still time to get the $100 discount! Time is running out for you to pre-order this new product! See how these new stylish glasses can allow you to record all the most special moments in your life from your point of view perspective with ease.
The eyewear product also have special "magic-glass" (chromatic shifting conductive glass) lenses for an instant on/off "electric powered sunglass" feature. You can then share the experiences you record across social networks like Facebook, Twitter and YouTube. It's a consumer electronics fashion accessory designed with technology to enable cool new social video and new electric sunglasses lens capabilities while being fashion-forward and stylish in the process.
The glasses will ship to customers just in time for the holidays, in December 2012. Pre-order for a $100 discount at http://kck.st/redefine-reality
Vergence has recently gained lots of momentum - presenting their new eye-wear prototype product at such prestigious venues as:
TEDxStanford
TechCrunch Disrupt NYC
Stanford BASES Finalist Awards
Stanford/MIT VLAB
They've also been fortunate to get coverage positive coverage in the press:
TechCrunch
Huffington Post
GizMag
Singularity Hub
PC Magazine
KZSU Radio
The team is currently working on adding WiFi, thus allowing the glasses to stream the live video to 3rd party apps and to the social web via YouGen.Tv (the website that works with the glasses). The eyewear will be able to pair with registered 3rd party applications so that any app developer will get access to the video created by the glasses -- like augmented reality apps, social video apps -- or any app that uses video and runs on a phone or tablet.
Visit the project today and help spread the word that something big is happening on kickstarter today -- computing enabled eyewear!