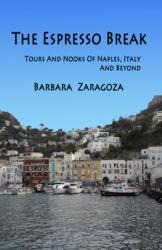 Part atlas, part history lesson, part epicurean review, this comprehensive handbook to Naples is without peer. –Kirkus Reviews
Chula Vista, CA (PRWEB) May 31, 2012
Kirkus Reviews has published its opinion about Barbara Zaragoza's new Naples, Italy travel guide: The Espresso Break: Tours and Nooks of Naples, Italy and Beyond (ISBN Number 978-0-9835099-2-9).
Kirkus Reviews says: "In her debut travel guide, Zaragoza puts together the ultimate companion for readers planning a trip to Naples.
"In this readable, entertaining information guide for tourists, Zaragoza takes readers from the heights of Mount Vesuvius to the ruins of Pompeii and beyond. Part atlas, part history lesson, part epicurean review, this comprehensive handbook to Naples is without peer. The only thing missing is information on lodging, a subject outside the book's purview. Zaragoza clearly has insider's knowledge obtained by spending a great deal of time in the regions she describes. She knows that anyone who wishes to see "The Sanctuary of Mithras" in Capua needs to see a custodian off premises, where he or she will grab a key and beckon travelers to follow the route to the actual site. It's tips like these that make this guide so special. Zaragoza starts off with a background history lesson before providing directions to the places she describes—some off-the-beaten-path destinations would be difficult if not impossible to find otherwise. When it comes to local cuisine, Zaragoza takes time not only to describe the food but its origins as well. Some of the first pizzas, for instance, were made in Naples; the author informs the reader of the two main types of pizza and the best places to sample them. Coffee drinking in Naples is an altogether different experience than elsewhere. The amount is much less per serving—typically about a shot's worth—but the sheer variety of formulations boggles the mind. Italians seem to take the idea of a coffee break seriously; it's common to take pause from a busy workday to grab a quick pick-me-up at one of the city's abundant cafés. Zaragoza's explanation of the etiquette of coffee drinking is just another example of her ability to immerse readers in the culture and everyday lives of the people who inhabit the city.
"Anyone contemplating a trip to Naples would do well to keep this very useful, accessible book close at hand."
The book is now available internationally on Amazon.com sites in Italy, the UK, Germany and other countries. You can find more about the author, the book, and Naples travel at Naples (Napoli) Travel Information Guide.