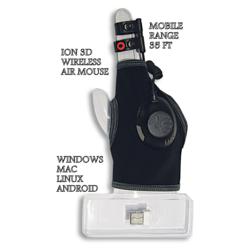 A comfortable work environment is worth much!
(PRWEB) May 31, 2012
Bellco offer freedom from the desktop mouse. Anyone that spends all day stuck to the desktop computer mouse knows the stress related problems in the hand, wrist and shoulder that develop from the use of a desktop mouse.
With a wireless keyboard and the new Ion 3D computer mouse glove anyone can experience a more comfortable work or play environment, it allows one to control the computer cursor up to 35 feet away. The setup is simple; just plug-in the USB module into the USB port on any computer operating system such as Windows, Mac, Linux or Android. The Ion computer mouse glove works great with the big screen, just attach the computer to the big screen TV with a HDMI cable.
Bellco says, until the computer mouse and the cursor become obsolete, the computer mouse will continue to evolve with new technology and new designs, like the Ion wireless air mouse glove. Pete Bell, Bellcos Founder, believes it is very important to continue to develop new ergonomic designs to help prevent the stress in the hand, wrist and shoulder to make for a better computer experience. "A comfortable work environment produces a happy work force, which is more productive," Bell said.
The New Ion Wireless Air Mouse Glove is available online for $79.95.
For More Information http://www.ionwirelessairmouse.com