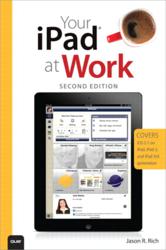 I was thrilled to discover VIPorbit, which is an ideal app for business people and entrepreneurs, said author Jason R. Rich.
Dallas/Fort Worth, Texas (PRWEB) May 30, 2012
VIPorbit®, the best way to manage contacts, calendars and communications on the iPhone® and iPad®, is acclaimed in the recently released book "Your iPad at Work: Second Edition" by Jason R. Rich. The book, from Que Publishing, teaches business people how to become more efficient and effective using the iPad, and devotes an entire chapter to managing contacts and schedules with VIPorbit.
"As I was writing "Your iPad At Work: Second Edition," I was thrilled to discover VIPorbit, which is an ideal app for business people and entrepreneurs. It offers an easy way for busy people to keep a vast amount of contact-related data organized. My new book is chock full of information to help iPad users make their iPad a more versatile and useful tool while on-the-job. With the book's tips and strategies, even people who do not consider themselves to be technologically savvy can learn how to use their new iPad or iPad 2 in ways they may never have thought possible," said author Jason R. Rich.
In VIPorbit, contacts, calendars, and communications are seamlessly integrated, providing instant access to all relationship details, quick scheduling, and easy communication, including via social networks. A chronological log of all relationship activity is automatically created, providing a comprehensive relationship history for each contact. Users can also record unlimited date-stamped notes for each contact. The product is designed for relationship-oriented businesspeople such as entrepreneurs, business owners, salespeople, consultants and service professionals such as realtors, lawyers, financial advisors, etc. The app can be easily customized for any type of business.
VIPorbit is led by co-founder and CEO Mike Muhney, the co-inventor of ACT!® and co-creator of the contact management software category, a catalyst for the multi-billion-dollar CRM (customer relationship management) industry. With the launch of VIPoribt, Muhney created the Mobile Relationship Management software category, relationship-building technology designed for the way people work today. Muhney is also an author and is internationally regarded as an expert on building business relationships and relationship management software.
"We're pleased to be featured as the premier iPad business solution for managing contacts, and to be endorsed by Jason Rich, a distinguished journalist and iPad expert," said Muhney.
About "Your iPad at Work"
"Your iPad at Work: Second Edition" is available from Amazon.com, BN.com, iBookstore, and wherever computer books are sold. For more information, visit http://www.YouriPadAtWork.com.
About VIPorbit
VIPorbit Software International, Inc. creates Mobile Relationship Management Software that helps businesspeople build sustainable relationships, which leads to greater success.
VIPorbit, is the only full-featured Mobile Relationship Manager designed for the iPhone and iPad. From the co-inventor of ACT!, it provides mobile professionals with an affordable, easy-to-use, anytime/anywhere solution that allows them to deal with more people, more effectively, elevating the value of their relationships. VIPorbit for iPad is US$14.99 and VIPorbit for iPhone is US$9.99. VIPorbit Lite for iPad and VIPorbit Lite for iPhone are free versions limited to 100 contacts. All products can be downloaded from the App Store. Visit http://www.VIPorbit.com for more information, and follow the company at http://www.facebook.com/VIPorbit, @VIPorbit on Twitter and http://www.linkedin.com/company/viporbit.
Press Contact:
Kari Gates, Marketing Manager
media(at)VIPorbit(dot)com
http://www.VIPorbit.com
VIPorbit is a trademark of VIPorbit Software International. ACT! is a registered trademark of Sage Software, Inc. All other trademarks are the property of their respective owners.