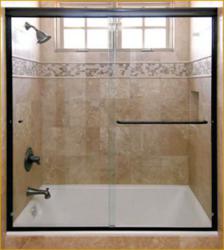 South Gate, CA (PRWEB) May 30, 2012
Glasswerks Inc. -- the leading frameless glass and high-end shower hardware supplier for the market -- is proud to introduce frameless sliding shower doors to its diverse line of wholesale and retail glass products and services.
For five-star hotels and luxury complexes, glass is the only option when it comes to fully modern shower doors and enclosures. So, Glasswerks has made its sliding shower doors available in frameless models. Glasswerks shower doors are made with top-of the-line hardware and many glass options including Guardian© ShowerGuard glass -- which offers protection against chemical erosion that causes permanent spotting, staining and scale buildup.
"At Glasswerks we always listen to our customers, and do our absolute best to accommodate their needs," says Ed Rosengrant, Vice President of Sales and Marketing. "So when we heard that frameless shower doors would help our customers increase their business, making them available and affordable was a no-brainer."
Glasswerks' frameless slider shower door kits feature a top-quality frameless style in the most popular finishes and glass options to offer customers more flexibility when it comes to designing bathrooms for projects of any size. Frameless shower door packages include 3/8" clear tempered and fabricated glass, installation kit, single-sided towel bar, and knob. Package prices begin at $280.
For more information on frameless shower doors, or to learn more about Glasswerks detailed custom fabrication and bathroom hardware, call Glasswerks' shower door department at (888) 789-7810 or go to http://www.glasswerks.com.
About Glasswerks Inc.
Glasswerks Inc. is a leading commercial and architectural glass fabricator headquartered in South Gate, California. Glasswerks Inc. produces architectural glazing products, glass furniture, mirrors and decorative glass; specializing in the production and fabrication of laminated, tempered, insulated, bullet-resistant, hurricane-resistant, and high performance low-e glass products. Born out of the competitive construction landscape of Los Angeles in 1979, Glasswerks Inc. operates from eight U.S. facilities located in Southern California, Texas, Ohio, Pennsylvania and North Carolina. Catalina Tempering and Avalon Glass & Mirror are subsidiaries of Glasswerks Inc. Visit http://www.glasswerks.com for more information.