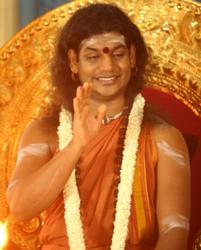 Just think about it, we need to fight to enter our own temple!
Los Angeles, CA (PRWEB) May 31, 2012
One of the World's 100 Most Spiritually Influential Personalities, His Holiness Paramahamsa Nithyananda expressed his shock on hearing about the assaults on two disciples and sanyasis, by a group claiming to be messengers of Kumaraswami Tambiran and Muthukumara Swamigal.
KANJANUR, SOUTH INDIA
As reported in the IBN Live (media in India), the two disciple sanyasis were in Kanjanur, South India to supervise the accounts, auditing and operations of the ancient Kanjanur Agneeshwara temple of Madurai Aadheenam. Nithyananda Dhyanapeetam reports on their website that the shocking act of violence allegedly occurred when the two sanyasis came out of the Kanjanur Temple on 29th May after offering morning worship.
In the complaint [FIR no. is C3417411 dt.30.05.12] to the police by the two sanyasis, it is said that a group of around 40 rowdies who openly identified themselves as 'messengers' of Kumaraswami Tambiran (junior pontiff of Dharmapuram Aadheenam) and Muthukumara Swamigal (pontiff of Tiruppananthal Matham) closed in on the sanyasis, attacking them verbally and physically, threatening their life, seizing their cell phones and Rs. 100,000/- in cash, and smashing the car in which they had come.
Fortunately, the entire incident was videotaped by another devotee and the video has been handed over to the police.
PRESS MEET: Addressing a press meet at Madurai Aadheenam along with his predecessor Srila Sri Arunagirinatha Sri Gnanasambanda Desika Paramacharya Swamigal within a few hours after the incident, Paramahamsa Nithyananda condemned the incident which was neither spiritually nor legally permissible. "Just think about it, we need to fight to enter our own temple!," he observed.
Strongly condemning the incident, which he revealed to be a planned assault, Paramahamsa Nithyananda held Dharmapuram Aadheenam and Tiruppananthal Matham wholly responsible for the assault and requested that those responsible for the violence be arrested.
As reported by IBN live the two pontiffs of Dharmapuram Aadheenam and Tiruppananthal Matham have been arrested by the Tamil Nadu police, for instigating the violence against Paramahamsa Nithyananda's disciples.
Soon after the press meet, both Madurai Aadheenam pontiffs left for Kanjanur village to assess the situation. The next day a silent rally was planned by devotees and supporters to protest against the incident. Madurai Aadheenam would also request police protection for its appointees in anticipation of further such violence.
Declaring that such untoward incidents would not stop Madurai Aadheenam from continuing with its social service activities, Paramahamsa Nithyananda announced that free medical camps and meditation camps would be held every alternate weekend at Madurai Aadheenam. The current annandaanam(free meals to all visitors) facilities were also being expanded to accommodate more people.
Paramahamsa Nithyananda also revealed that the first overseas branch of Madurai Aadheenam would open shortly at two locations viz. San Jose and Los Angeles in California, USA.
About Paramahamsa Nithyananda:
The rare Enlightened Master from South India, His Holiness Paramahamsa Nithyananda, is the most watched spiritual teacher on YouTube today with over 2000 hours of discourses on topics ranging from life solutions to enlightenment.
Paramahamsa Nithyananda is a global leader in yoga, meditation, kundalini awakening, enlightenment science. Clear, dynamic and modern in approach, Nithyananda's teachings have already transformed 15 million followers in 150 countries with the fastest growing spiritual community around the youngest incarnation.
For more information on Paramahamsa Nithyananda's Teachings, please visit : http://www.youtube.com/lifeblissfoundation
http://innerawakening.org/