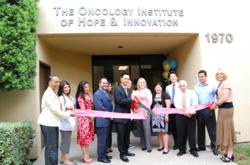 Downey, CA (PRWEB) May 31, 2012
Lead by Dr. Daniel Huang, who joined The Oncology of Hope and Innovation in November of last year, the Santa Ana location had its official Grand Opening with a Ribbon Cutting ceremony on May 24th, presided by the Santa Ana Chamber of Commerce. The cancer center is equipped with the state of the art medical equipment and it is conveniently located close to Western Medical Center.
This is the second Orange County location to open since the grand opening of the Anaheim location just last year. "To serve the community and provide cancer treatment to the patients and families we serve is a tremendous responsibility that we don't take lightly. I feel great about our new footing in Santa Ana and we will continue to grow the practice in an effort to expand our reach and engrain ourselves in this welcoming, warm community," said Dr. Richy Agajanian, Founder of The Oncology Institute of Hope and Innovation.
Born and raised in the East Coast, Dr. Huang earned his B.S. in Biology from Cornell University and his M.D. from the Mount Sinai School of Medicine. He completed his internship and residency in Internal
Medicine at Cedars-Sinai Medical Center and his fellowship in Hematology and Oncology at UCLA – Olive View Medical Center.
Dr. Huang strives to find the intersection between science and compassion in caring for his patients. He seeks to design personalized treatment strategies for each individual while helping them maintain the highest possible quality of life. Dr. Huang knows that the doctor-patient relationship in oncology is unlike any other and strives to build a relationship based on trust and mutual respect. He enjoys and makes use of every opportunity to educate his patients so that they are informed and empowered during their journey through the practice.
About The Oncology Institute:
The Oncology Institute of Hope and Innovation is committed to providing superior, compassionate and state-of-the-art medical care. Offering programs to help patients and families cope with the challenges that are brought on by cancer and strive to optimize their quality of life, comprehensive and realistic treatment goals are tailored to every person's unique needs and decided upon in partnership with the patients and their families. Dedicated to excel in cancer prevention, diagnosis and education through our exceptional team of physicians, nurse practitioners, nurses, medical assistants and office staff, The Oncology Institute of Hope and Innovation has 9 Southern California locations in the cities of Anaheim, Downey, Glendale, Long Beach, Lynwood, Montebello, Torrance, Santa Ana, and Whittier. For more information please visit http://www.theoncologyinstitute.com.