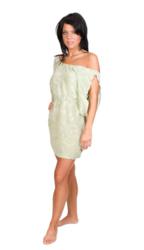 (PRWEB) May 30, 2012
These days, Gypsy05 clothing seems to be showing up everywhere, from Hollywood's biggest stars to the fashion sections of magazines. The tops and dresses, which feature unique designs, regularly make appearances on the red carpet. Now it will be showing up at LalunaCouture.com.
Gypsy05's long dresses and skirts are especially popular with celebrities, with the long, carefree look perfect for casual and evening wear. Vanessa Lachey, Estella Warren, and Tori Spelling have been photographed in these long, comfortable dresses, and Joss Stone and Stephanie Pratt have both worn them out on the town.
Gypsy05 creates unique designs that can transition from daytime to evening wear with a strong emphasis on its T-shirts, unique blouses, dresses, and skirts. Its casual dresses are dressy enough to be worn on the red carpet, while being comfortable enough to be worn while running errands, as evidenced by the many celebrities photographed wearing Gypsy05 while doing both.
LalunaCouture.com customers have been requesting clothing lines that use organic fabrics. Not only does Gypsy05 clothing offer such but they also contain organic soy softeners, low impact dyes, and seaweed extract printing.
Gypsy05's current collection focuses on a theme that honors Native American culture, with bold shades, flowing silhouettes, and earth tones. Many of Gypsy05's designs are inspired by the creators' surroundings, as they pay homage to the world as they see it. Gypsy05 Co-founder Osi Shoham incorporates nature into all of her designs, finding ways to inspire freedom of spirit and creativity in those who wear her clothing.