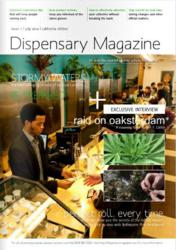 We want to work with any medical marijuana related company that needs employees of any kind
Los Angeles, CA (PRWEB) May 30, 2012
Cannajobs.com, the top online resource for marijuana jobs, today announced its partnership with Dispensary Magazine, a new bi-monthly printed and online trade magazine for the dispensary business that's launching in July. As part of the Cannajobs affiliate program, the partnership will help create jobs in the cannabis industry and help the publication grow.
"We want to work with any medical marijuana related company that needs employees of any kind," said Robert Calkin, president of Cannajobs. "Dispensary Magazine is a direct portal to the medical marijuana industry. As the magazine grows across states, we feel that each state will eventually need an office, an editor, a sales department, a graphic designer and a photographer and more working on each edition and we can help provide that."
Dispensary Magazine is designed to provide the latest and greatest in counter culture news for the entire cannabis community, with content focused on relevant issues of each individual state. The glossy version of the magazine will be printed bi-monthly with an e-zine provided at dispensarymagazine.com.
"Our goal is to provide an outlet for the community to have a reliable source to turn to in this ever changing and evolving industry," said Jason Scoby, editor of Dispensary Magazine. "We are the first cannabis magazine to provide individualized content by state. We're really excited about this launch and where we are headed in the future."
Dispensary Magazine will be distributed throughout the 16 states and counting where medical marijuana has been legalized. As it grows, it will develop a new team in each state. New positions will be posted to Cannajobs.com as they become available.
The Cannajobs affiliate program is available for any business within the cannabis industry. Not only does Cannajobs.com offer free hosting and website design to marijuana businesses that join, but Cannajobs affiliates are exposed to the hundreds of members flood the website's social networking portal every day and experience growth through the site's online job listings.
For more information about Cannajobs, call (818) 646-2079 or visit http://www.cannajobs.com.
About Cannajobs
Cannajobs is a cannabis jobs resource that provides job seekers and business owners in the medical marijuana industry an online forum to communicate and find employment opportunities, as well as educate themselves about their industry. The company also helps teach people how to find jobs, qualify for jobs and start a lasting career in the medical marijuana field. The website provides a platform for free video conferencing and document sharing. Cannajobs is more than just a posting site; it's an online community where potential cannabis employees and burgeoning cannabis businesses link up to become more successful than ever before. Apply for jobs online directly through the Cannajobs site.
Cannajobs also has its own social networking component, The Circle, where everyone in the cannabis community can network and share their thoughts on the very latest on job leads, news and hot new products.