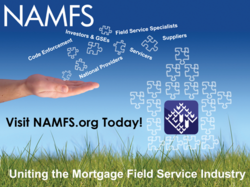 "As an independent entity within the mortgage field service industry, NAMFS is proud to lend its voice to not only this discussion but also proposed solutions for this challenge." ~ Eric S. Miller, Executive Director
Stow, OH (PRWEB) May 31, 2012
The National Association of Mortgage Field Services(NAMFS) will be participating as a panelist at both the REO Expo and the Florida Association of Code Enforcement Education & Training Seminar during June. The Association will be providing input at both events regarding the collective industry response to addressing blighted properties impacting these groups.
The REO Expo is being held June 12-15, in Fort Worth, Texas. It is billed as "the nation's largest event focused solely on distressed residential real estate management." The event is designed to offer attendees educational content, training and networking opportunities to assist them with moving properties out of the final stages of the foreclosure process.
The Florida Association of Code Enforcement Education & Training Seminar will be held June 19-22, in Palm Beach, Florida. This organization was created to improve the practice of Code Enforcement in the state of Florida through a combination of training, certification and communication regarding best practices. This event focuses on the multitude of challenges facing the code enforcement community inclusive of vacant properties and communication with those responsible for their maintenance.
Since creating ALLIANCE - The NAMFS Code Enforcement Solution in May 2011, the Association has had regular conversations with focus groups representing these entities. As a result, NAMFS is uniquely positioned to speak as an independent voice regarding the benefits of opening the lines communication between the field service and code enforcement communities. These events provide the Association with a platform to educate and begin a solution based dialogue regarding the challenges faced by all sides in abating these problem properties.
NAMFS continues to be committed to improving the relationship and communication flow between the field service industry and the code enforcement & HOA communities. The Association looks forward to these upcoming events and will continue outreach to the mortgage field service industry through other events throughout the year, including the NAMFS Conference & Expo 2012 hosted in New Orleans this September.
About NAMFS
The National Association of Mortgage Field Services, Inc. (NAMFS) is the premier trade association for the mortgage field service industry. We are dedicated to working with all entities of the industry from the Government Agencies and investors that set policy to the contractors and inspectors that perform the work.