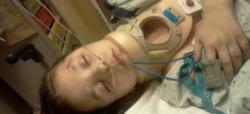 It is so hard to see what happened to my daughter, and think she was one of the lucky ones.
Whitehall, PA (PRWEB) May 31, 2012
Less than a month ago, Hope was your picture perfect 8 year old girl; pretty smile, long beautiful hair, lots of friends, Honor Roll, Student of the Month, happy and full of energy.
Today she has a hard time remembering what she ate for breakfast, by lunch time.
On Saturday May 5th, Hope woke up after spending the night at her friends' house, and went out for a morning bike ride. As she was riding, she found herself going down a hill and unable to stop her bike. She crashed into a concrete barrier, and was rendered unconscious by the blow. Minutes later she was rushed to the nearest hospital. Doctors determined that she needed emergency brain surgery. She was loaded up into the ambulance, and taken fifteen miles to the closest hospital that could perform the surgery.
57 staples later, Hope was laying in the PICU with her fate unknown. Then the miracle happened. She recovered quicker than any of the doctors expected. She beat the odds.
See full story here
Every year, United States hospitals and ambulances see over 500,000 serious bicycle injuries. Over 25,000 are listed as dead on arrival. Helmets for Hope wants to change this grim statistic.
"We started Helmets for Hope to spread the word about how severe the injuries from a bicycle accident can be. We also want to take away the excuse of not having a helmet, or the money for one. I hope that businesses can find it in their hearts to spend at least $5 of their advertising budget to help our cause, in exchange for a profile page on our website. I put a lot of effort into the Wall of Hope, in which businesses are able to include a Facebook Like button, a Youtube video, a link to their website, and even coupons into their listing." said Phillip Cameron, the web developer responsible for and co-founder of Helmets For Hope.
His fiancé, co-founder and Hope's mother Debi stated " It is so hard to see what happened to my daughter, and think she was one of the lucky ones. I don't think any child, or mother, should have to go through what my baby did. I am sharing my story on the website so that I can help prevent this tragedy from happening to another child."
On the Helmets for Hope website parents, aunts, uncles, and grandparents can request a free helmet for their child. These helmets are then presented at a regional ceremony, which features a bicycle safety presentation. Businesses and Individuals can also donate right from the website.
Helmets for Hope has been registered as a Nonprofit Corporation in Pennsylvania. Helmets for Hope aims to decrease serious bicycle accidents among children through safety education and helmet distribution.
For More Information Contact:
Phillip Cameron
910 3rd Street
Whitehall, PA 18052
4845058903
http://www.helmetsforhope.com
Like us on Facebook