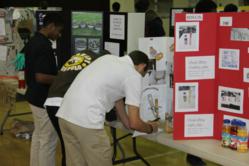 Science Department Chair Mr. Olson remarked, "I have already witnessed a huge improvement in the quality of the projects my chemistry and physics students have completed this year."
Encino, CA. (PRWEB) May 31, 2012
On April 20, 2012, students at Encino Crespi displayed their scientific experiments at the Crespi Science Expo Day. Science Expo Day is the Crespi Carmelite High School Science Fair, which in previous years had been called Science Thematic Educational Program (S.T.E.P.). For the past few years, there has been a school-wide theme of "Earth Day." This year, however, the theme was more open to individual choice while still being tailored to each science subject.
Watch the Crespi Science Expo Video.
Science Department Chair Mr. Olson remarked, "I have already witnessed a huge improvement in the quality of the projects my chemistry and physics students have completed this year." Projects like "The Everything Vaccine: Nanobots in Medical Scanning" by sophomores Hayden Sand, Jack Romine, Joe Law, Dustin Trisler, and Koroush Nowry explored the history and future technology of using nanobots in medicine and using nanotechnology to develop more precise surgical techniques.
Mr. Olson hopes that by lifting the constraints on the Science Expo theme students will take true ownership of their projects and grow in terms of creativity and passion. Fundamentally, the scientific method is about developing a question, a hypothesis, and putting new ideas to the test. The goal of Science Expo Day is to promote the use of the scientific method among the students as well as demonstrate their ability to present their findings. It is also viewed as a tool for measuring students' abilities to perform experiments independently.
Because the use of the scientific method is so integral to the development of the Crespi Man, each science class is expected to participate, with the exception of the Advanced Placement (AP) students. The AP students help the teachers judge the different groups on a variety of categories. These judges select their top three projects, from each class to receive first, second or third place, along with the corresponding ribbons to proudly display on their project.
Students are allowed to work alone or create groups to plan and perform experiments of their own design. They are required to write a paper based on their research and must present their findings to the class. Students are also required to create an accompanying poster board to display their findings in a self-explanatory manner: any other visuals are optional.
During the science fair itself, students present their project to invited families and students. At the discretion of the teachers, students are released from class to view their schoolmates' work. Students who visit the expo view and critique a minimum of two projects in order to develop their own scientific ideas and improve upon their own investigative capabilities.