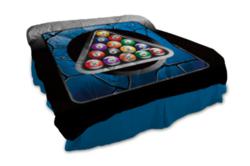 Pierre, SD (PRWEB) May 31, 2012
Ready to make another unique splash in custom bedding and other home décor products, VisionBedding today announced the addition of new pool themed designs to its galleries of custom art. With seven pages of designs for bedding, duvets and comforters, VisionBedding invites its customers to chalk up a few wins with pool table designs that leaves them lined up for a break on their bedding and fires an 8-ball across their duvets.
Always eager to satisfy customer demand, the CEO and Owner of VisionBedding, Justin Poile, received customer requests and realized "pretty much everyone tries their hand at pool sooner or later". Hugely popular in frat houses and mountain towns, dive bars and uptown pool halls, pool tables are a natural draw for many people. "Who wouldn't like to have a pool table in their house?" was the thought that cued this new line of designs and is rolling billiard balls across custom bedding and other home decor.
Beyond individual customers, this pool themed bedding seems likely to appeal to hotels hosting championships and organizers looking for comforting prizes. Whether it's thought of as billiards or pool, the game enjoys worldwide popularity among both men and women, and hundreds of top players are on the competitive circuit. Played in the Underground bars of Ho Chi Minh City and the Big Apple alike, pool is so much a staple of American life that it's as essential to expats as cold beer and french fries, and it rivals backgammon on remote islands for relaxing distraction and a friendly wager. It's a safe bet that interest is going to translate into customers racking up these new pool designs from VisionBedding on their fleece blankets and comforters.
About: VisionBedding is an online bed and bath linen company specializing in custom photo linens. The company offers millions of designs for home decor, everything from window and shower curtains, to flooring, wall art, as well as adult to toddler bed linens. In addition the wall art can be custom sized. The company is also able to personalize any design with a customer's own text, logo and color.