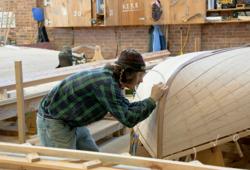 Newport, Rhode Island (PRWEB) May 30, 2012
IYRS, a marine trades and technology school based in Rhode Island, has been recognized as a 2012 "Editor's Choice" winner in Yankee Magazine's Travel Guide to New England. The school's distinction as the "Best Place to Get Schooled" was awarded by Yankee's editors and contributors, who annually name select restaurants, lodgings, and attractions in New England to this exclusive list.
IYRS trains the skilled maritime craftsmen and technicians who fuel Rhode Island's important marine-trades industry. The school's 2.5-acre waterfront campus on Newport's Thames Street is also a popular destination for those interested in the maritime lore and heritage of the region.
Visitors to the campus can watch students restore classic wooden boats in the school's Boatbuilding & Restoration Program, stroll to the school's stone wharf to spy majestic visiting vessels in summertime, and learn about the maritime history of the region in displays coordinated with the Museum of Yachting. The campus is also the site of the Coronet restoration—a rare 1885, 133-foot yacht being brought back to her former glory.
This summer, visitors to the school will also have an opportunity to see an America's Cup exhibition hosted by IYRS and the Museum of Yachting that looks at this famed sporting contest from a unique vantage point.
"The William I. Koch Collection: Art, Artifacts & Memorabilia of the America's Cup" is a display of fine paintings, rare books, silver, photography and historic memorabilia that celebrates the America's Cup as a cultural phenomenon through the art and objects the event has given birth to. Items on display cover some 150 years of Cup history, beginning in 1851.
The America's Cup has a long history in Newport, which was home to the event from 1930 until 1983. This summer the final leg of the America's Cup World Series will take place in Newport, June 26 to July 1.
IYRS is located at 449 Thames Street in Newport. The America's Cup exhibit, which opens on June 1 and runs until October 1, is located at the school's library and runs according to the following schedule: Tuesdays – Saturdays, 12 pm – 5 pm; closed Sunday & Monday. There is no admission charge.
The school maintains a second campus in Bristol, Rhode Island, where it offers programs in Marine Systems and Composites Technology.
For more information about IYRS and its Newport campus and programs, visit http://www.iyrs.org.