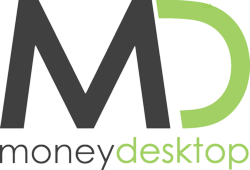 PFM is all about becoming the PFI.
Provo, UT (PRWEB) May 30, 2012
Credit unions nationwide are implementing PFM at an increasingly rapid pace as they recognize its critical role in online and mobile banking. Seventeen more credit unions are adding PFM to online banking and all have selected the platform provided by MoneyDesktop, a leader in PFM and an innovator that is redefining the way that people interact with their finances and with financial institutions. Today's announcement is another signal that account aggregation and PFM are must-have components to online and mobile banking.
Each of the credit unions will integrate MoneyDesktop's award-winning PFM into online banking and provide members with valuable tools that assist in managing money and achieving financial goals. These money management tools include: account aggregation, expense tracking and auto-categorization as well as budgeting, alerts and debt management.
"By providing PFM, a credit union is able to stay relevant and become the financial hub to members," says Matt West, VP of Sales at MoneyDesktop. "This will increase long-term loyalty and drive loan volume as members using PFM originate new loans and migrate other loans over to their primary financial institution. PFM is all about becoming the PFI."
PFM's capacity to position a credit union as the PFI is evidenced by data that shows that in over a one-year time period, consumers who used PFM tools, offered as part of online banking, were:

4X more likely to have increased the number of bill payments
2X more likely to have increased both the number of accounts held at the financial institution and the number of transactions they made.
MoneyDesktop's seventeen new credit union clients are: Honor Credit Union, Superior Choice Credit Union, United Consumers Credit Union, Building Trades Federal Credit Union, Assemblies Of God Credit Union, MembersOwn Credit Union, MembersFirst Credit Union, Northern Communities Credit Union, Winston-Salem City Employees Federal Credit Union, First Financial Credit Union, Kentucky Employees Credit Union, EdCo Community Credit Union, Lower East Side Peoples's Federal Credit Union, BCS Community Credit Union, Saint Luke's Credit Union, KRD Federal Credit Union and Red Lake Co-op Federal Credit Union.
About MoneyDesktop
MoneyDesktop currently has 22 online banking, core and payment network partners and serves more than 280 financial institution clients. Through its award-winning PFM, MoneyDesktop has established its place as a leader in PFM and has become the fastest-growing provider of its kind. By integrating directly into online banking, core, and payment platforms, MoneyDesktop positions banks, credit unions and payment providers as primary financial institutions and provides tools that dramatically impacts loan volume, user acquisition, and wallet-share. For more information, contact Nathan Gardner at 801.669.5534, email press(at)moneydesktop(dot)com or visit http://www.moneydesktop.com.